5 success factors for Black Friday and Cyber Monday 2022
presents as early as late summer? Around the holidays, two days are most popular for shoppers to buy their Christmas presents: Black Friday and Cyber Monday or BFCM. They are known among customers for offering the best deals on these days. As a merchant, these days offer you great sales potential. However, thousands of online shops compete for the attention of potential customers with voucher codes, discounts and other individual promotions. What does BFCM mean and with what preparation can you best encourage your customers to make a purchase and inspire them for the right gift ideas? You will find 5 tips in this article.
What is Black Friday?
In the US, Black Friday is not only a popular bridge day after Thanksgiving, the American harvest festival. It is also often seen as a kick-off for the Christmas shopping season, as many Americans buy their Christmas gifts online and offline at this time. Black Friday 2022 takes place on 25 November. This day in UK has become really popular in recent years. Many shops extend the special offers to a whole week, the so-called "Black Week" or "Black Friday Week".
What is Cyber Monday?
After the Black Friday was initiated by stationary merchants, American online merchants launched Cyber Monday in reaction to that. On this Monday, which directly follows the long Thanksgiving weekend, online retailers attract visitors with massive online discounts. Cyber Monday 2022 will take place on 28 November.
Through American companies like Amazon, this trend was quicky established in the UK. At Amazon, this event is even the kick-off for an entire marketing week called "Cyber Monday Week".
Tips to optimally prepare your online sales for BFCM
Not sure where to begin your BFCM planning? In the following there are five tips to consider before launching your campaign for Black Friday.
1. Define your product range
Black Friday and Cyber Monday are mostly about special offers on individual products. Therefore, one of the crucial steps for you is to select the right products for the sales promotions. Your current bestsellers are particularly suitable, as well as potential Christmas gifts that are often bought by customers. Also, look at which products have sold particularly well in the run-up to Christmas in recent years and see if you can sell them as special offers. Selling leftover stock is also a good idea on Black Friday and Cyber Monday to bring less popular products to a wider group of people.
2. Update content pages
The best sales promotion is of no use if no one finds the content in your shop. You should therefore highlight the Black Friday and Cyber Monday deals prominently in your shop. For example, you can integrate an "image slider" or an image gallery on your start page or other sub-pages of your shop to advertise some of the special offers: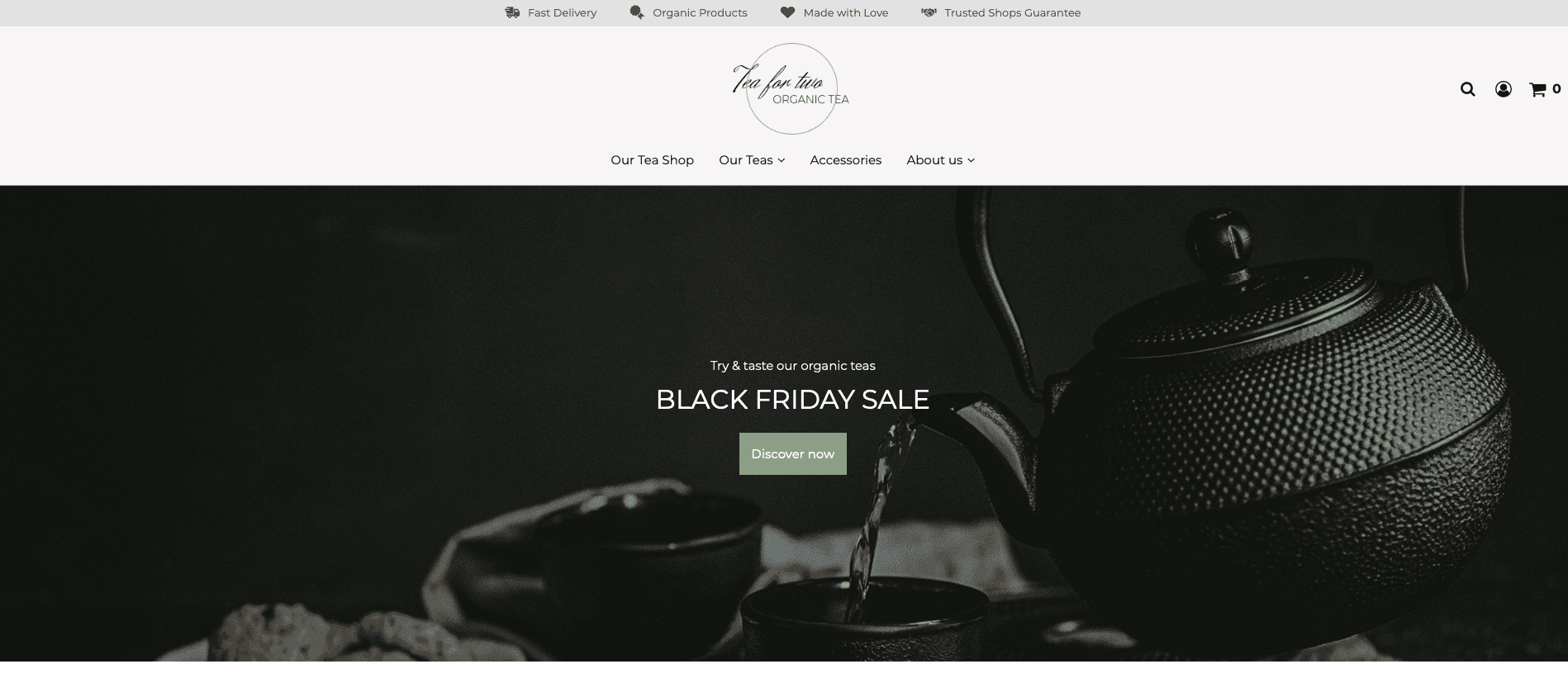 Free marketing pictures can be found on websites like Pixabay or Unsplash. You can create a separate sub-page for your offers to which you can lead your customers. There you then can put your offers even more in the spotlight. Also remember to show your customers the product availability and important delivery infos of your special offers.
3. Plan logistics in advance
For the busy weeks before Christmas, make sure you have enough support to handle all orders and returns. To avoid frustration with your customers, inform them of the latest order date to guarantee that the delivery will still arrive in time for Christmas Eve.
In ecommerce, the Christmas holidays are just a short break before an increased volume of orders and returns. After Christmas, many customers spend the money they received as presents and unloved gifts are returned.
Apps like Billbee are worthwhile for automating order processing or shipping labels. You can find Billbee in the App Store under Inventory Management.
4. Increase online marketing for new and existing customers
To attract new customers to your offers, shopping ads from Google are an easy way to optimise your marketing campaigns. With the connection in shop version Now, you can place ads for your products directly from your shop on all important Google Ads platforms. Boosting your Christmas marketing now pays off twice: Invest 400€ in ad spends for Black Friday within 60 days and get another 400€ ad credit by Google. This is a great way to save 50% ad spends on your entire Christmas marketing. Read more information and how to activate shopping ads from Google for your shop in our blog article.
For existing customers, it is worth sending newsletters with promotions to keep them up to date about the offers to be expected. This way, you arouse excitement in your customers in advance and create anticipation. You can use apps such as CleverReach to send newsletters.
5. Check legal requirements
In order not to violate any consumer protection rights in competition with other shops, you should check the legal requirements for your discounts in advance. For the correct presentation of price reductions there might be regulations based on the countries that you are selling in. Especially on Black Friday and Cyber Monday, there is a risk that companies advertise with fake discounts. Check for more information on how to correctly display discounts in your shop.
This article was updated in October 2022.
Note: This article contains initial legal advice but does not claim to be complete or accurate. It can in no way replace legal advice in individual cases.
Als Content Manager bei ePages ist Sarah für redaktionelle Inhalte und Videocontent zuständig. Im ePages-Blog stellt sie Onlinehändlern Marketingtipps, rechtliche Updates und Infos zur ePages-Software zur Verfügung, um ihnen den Einstieg in den E-Commerce zu erleichtern.
https://blog.epages.com/wp-content/uploads/2021/09/BFCM-22-TB.png
314
848
Sarah Böhm
https://blog.epages.com/wp-content/uploads/2021/11/logo-epages-blog.svg
Sarah Böhm
2022-10-01 09:05:46
2022-11-04 15:46:12
5 success factors for Black Friday and Cyber Monday 2022