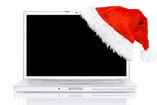 Fit for Christmas – Part II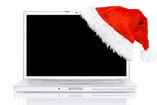 When Christmas decorations start appearing in towns and cities in November, most people start looking for presents to give to their loved ones. Online merchants should be prepared now for the best sales season all year. Continue reading the second part of the ePages blog's "Getting in Shape for Pre-Christmas Shopping" series to learn what you can do in order to best reach potential Christmas shoppers.
The right layout
Have you created a Christmassy layout for your shop? If so, this is the ideal time to activate it. But even if you do not have a suitable layout yet, you still have enough time if you act quickly. Browse the items offered by image suppliers such as Fotolia or istockphoto – you might just find a suitable image. With just a bit of skill, you can quickly integrate Father Christmas or an angel into your header graphic.
Create special landing pages and/or category pages which emphasize Christmas. Some possibilities include: "Gift ideas for him", "Gift ideas for her", "Most popular gifts" or "Special Christmas offers". We recommend that you adapt the layout for these pages even more explicitly to the Christmas season, and conspicuously insert on your homepage a link to these pages.
Check the product portals

Have you found products which – as discussed in Part I of this series – will potentially become this year's top sellers? If so, you should make absolutely certain that your stock levels will suffice. You should also ensure that any recently added products are listed in the most important marketplaces – such as Amazon, Ciao or eBay – so you can reach as many customers as possible. Speaking of eBay: the fewer days remaining before Christmas, the more important it becomes that your products feature the Buy It Now option, which is especially appealing to last-minute shoppers.
Utilise the right Google ads

Now is the time to create special Christmas ads for your shop with Google AdWords. Frequently used keywords at this time of year are "gifts", "gift idea", "Christmas", "Christmas promotion", etc.; you should trigger your ads with regard to these terms. Make sure that your ad text emphasises Christmas to attract the attention of customers. Appeal to people, for instance, by inserting "Delivery by Christmas" into your ad text. Use the aforementioned Christmassy landing pages and provide links to them.
Encourage customers to review your shop

Customers will gladly make purchases in a shop if they know they are in good hands. Positive customer reviews therefore mean a great deal. Make it clear to new customers this Christmas shopping season that you boast a large base of existing satisfied customers. Use November's remaining days to conduct an e-mail campaign aimed at regular customers; ask them to evaluate your services via eKomi, for example. Combine your campaign with a special coupon in order to increase the rate of participation and generate additional sales.
Volker Schwarz studied German, History and Politics at the Ruhr-Universität Bochum. From 2004 to 2009 he worked as a freelancer for several marketing and communications companies in Hamburg, including e-commerce companies. Between August 2009 and December 2011, he worked as an online editor at ePages.
https://blog.epages.com/wp-content/uploads/2021/07/Visual-Weihnachtsserie.png
105
157
Volker Schwarz
https://blog.epages.com/wp-content/uploads/2021/11/logo-epages-blog.svg
Volker Schwarz
2010-11-22 14:42:03
2022-01-10 22:37:06
Fit for Christmas – Part II