AI tools and tips for Black Friday and Cyber Monday 2023
Did you know that one in five Germans starts thinking about Christmas presents as early as late summer? Around the holidays, two days in particular are dominated by the desire to buy: Black Friday and Cyber Monday, or BFCM for short. Consumers know that these days offer the best deals. As a retailer, these days offer great sales potential. However, thousands of online stores compete for the attention of potential customers with voucher codes, discounts and other individual promotions. With the growing importance of Artificial Intelligence (AI) and advanced integrations in the ePages Now shop system, merchants now have the opportunity to prepare for these days. What does BFCM mean and what tools can you use to best encourage your customers to buy and inspire them to find the right gift ideas? In this article you will find 5 tips.
What is Black Friday?
In the US, Black Friday is not just a popular bridging day after Thanksgiving. It is also often seen as the start of the Christmas shopping season, with many Americans buying their first Christmas gifts online and offline. Black Friday 2023 will take place on 24 November. This day has only become popular in Germany in recent years. Many shops extend their special offers to a whole week, the so-called "Black Week" or "Black Friday Week".
In 2021, it was established for the first time that the term "Black Friday" is not legally a word mark and can, in principle, be used by retailers for advertising purposes. This will allow many retailers to breathe a sigh of relief as they will now be able to benefit from this search volume.
What is Cyber Monday?
After bricks-and-mortar retailers initiated the sales-heavy Black Friday, American online retailers launched Cyber Monday. On this Monday, which immediately follows the long Thanksgiving weekend, online retailers attract visitors with deep discounts. Cyber Monday 2023 will take place on 27 November.
Thanks to American companies like Amazon, this trend has also arrived in Germany. Amazon even kicks off a whole week of bargains called "Cyber Monday Week".
Tips on how to best prepare your online sales
1. Define your product range
Black Friday and Cyber Monday are mostly about special offers on individual products. So one of the most important steps you can take is to choose the right products for your promotions. Your current bestsellers are particularly suitable, as well as potential Christmas gifts that customers often ask for. Also, look at what products have sold particularly well in the run-up to Christmas in recent years and see if you can sell these as special offers. Selling leftover stock on Black Friday and Cyber Monday is also a good idea to get less popular products in front of a wider audience.
2. Update content pages
The best sales promotion is useless if no one can find it in your store. Therefore, you should aggressively promote Black Friday and Cyber Monday deals in your store. For example, you can include an image slider or gallery on your home page or other sub-pages of your shop to promote some of the special offers:

You can create a separate sub-page for your special offers and direct your customers to it. This will give you the opportunity to promote your offers even more. Remember to show your customers the availability and delivery details of your special offers.
3. Plan logistics in advance
For the busy weeks before Christmas, make sure you have enough support to handle all orders and returns. To avoid frustrating your customers, let them know the latest date they can order to ensure delivery in time for Christmas Eve.
In online retail, the Christmas holidays are just a brief respite before the volume of orders and returns increases. After giving presents, many customers spend the money they received as gifts and unloved presents are returned.
Apps like Billbee are a great way to automate order processing or shipping labels. Try Billbee with ePages free for 3 months until 31 October, more information on our website.
4. Target your Marketing to new and existing customers
To attract new customers to your offers, Shopping Ads from Google are an easy way to optimise advertising campaigns. With the Shopversion Now connection, you can place ads for your products directly from your shop on all major Google Ads platforms. Upgrading your Christmas marketing with Google now pays off twice: invest €400 of your advertising budget within 60 days and receive a further €400 of advertising budget from Google. This means you can save 50% on your advertising spend for your entire Christmas marketing campaign. For more information and to learn how to enable Google Shopping ads for your shop, read our blog post.
For existing customers, it is worth sending out newsletters in the run-up to the promotion days to let them know what to expect. This will build excitement and anticipation. You can use applications such as CleverReach to send newsletters.
5. Check the legal requirements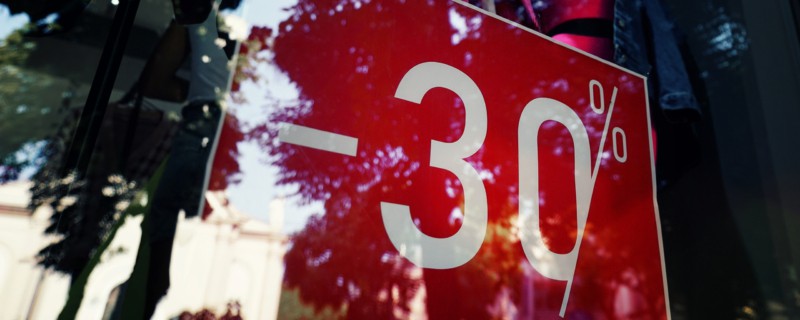 In order not to risk a warning in competition with other shops, you should check your discounts in advance. Since May 2022, there has been a new ordinance on the correct presentation of price reductions, in part to prevent consumers from being misled. Especially on Black Friday and Cyber Monday, there is a risk that companies will advertise fake discounts. Among other things, the new regulation stipulates that base prices must refer to the lowest total price of the last 30 days. Read our blog article for more information on how to correctly display discounts in your store.
3 AI tools for your BFCM
Optimise product copy: With tools such as ChatGPT, product texts for the BFCM can be adapted in a matter of seconds and even optimised for search engines. So that you can optimise your product texts even faster and directly in the shop software in the future, AI-supported functions for creating product texts and meta descriptions will be integrated in ePages Now at the end of 2023.
Optimise marketing with AI analytics: Instead of guessing what type of ad will work best for Black Friday, AdOptimizer can analyse data in real time and make recommendations to optimise your ad campaigns. This maximises the ROI of your advertising spend.
Prepare copy and graphics with DesignAI & Copy.ai: Consistent and engaging branding is critical to any advertising campaign. DesignAI lets you create professional-looking graphics in minutes, while Copy.ai helps you create compelling sales copy that engages prospects.
Want to try more AI-powered tools? Check out our blog post for more free programs. Subscribe to our Shop Updates for ePages Now to stay on top of new AI features!
This article was updated in October 2023.
Note: This article contains initial legal advice but does not claim to be complete or accurate. It can in no way replace legal advice in individual cases.
Als Content Manager bei ePages ist Sarah für redaktionelle Inhalte und Videocontent zuständig. Im ePages-Blog stellt sie Onlinehändlern Marketingtipps, rechtliche Updates und Infos zur ePages-Software zur Verfügung, um ihnen den Einstieg in den E-Commerce zu erleichtern.
https://blog.epages.com/wp-content/uploads/2023/09/4d31edb4-83ec-3be6-612a-c56fb7dded18.jpg
639
1920
Sarah Böhm
https://blog.epages.com/wp-content/uploads/2021/11/logo-epages-blog.svg
Sarah Böhm
2023-10-02 09:05:46
2023-10-02 13:38:57
AI tools and tips for Black Friday and Cyber Monday 2023