7 best practices for high converting e-commerce sales promotions
Grant Thomas from Justuno gives insight on how to make the most out of your online store promotions.
Every e-commerce business runs sales promotions, but some perform better than others. It's not just the offer itself that impacts sales. Delivery, timing, and convenience all make a difference in your promotional campaigns. Here are 7 best practices to help you run more effective e-commerce promotions and drive more monthly revenue for your business.
Create a mutually beneficial promotion
It's important to offer sales promotions that not only benefit your business but also are appealing to the shoppers on your website. Take a look at your margins and see what kind of offers you are able to run. From there, figure out what is the most appealing promotion to shoppers and go with that one.
Capitalise on consumer behaviour
Shoppers have some predictable patterns that every retailer should be aware of. Here are a few key ones to focus on:
Shoppers are looking for free shipping. 73% of shoppers state free shipping as the #1 factor in a purchasing decision.
56% of consumers abandon carts when presented with unexpected costs. Instead, present your shoppers with unexpected discounts! Even if it's small, it can influence their decision.
40% of shoppers prefer receiving discounts over loyalty program points.  We live in a world where instant gratification is expected. Meeting shopper's needs immediately results in more sales.
Choose a frequency of promotions
This is going to differ for every e-commerce business but it is an important aspect to consider. You may plan on running a consistent promotion on your site or strictly limit promotions to key dates. Whatever you do decide on, you still must engage the traffic coming to your site. This could be an email capture pop up, a contest, or a navigational call to action ("Click here to view our new line of sandals!").
Make it easy for shoppers
Eliminate barriers and distractions so the shopper can purely focus on checking out. If you're offering promo codes as a part of your promotion, distribute the codes on your site. This eliminates shoppers from leaving your site to check their email or go to a third party site all while keeping them on the path to making a purchase.
Offer shoppers the option of guest checkout. This eliminates commitment from the purchase and if they end up checking out, you'll get the customer info anyway.
Take control of your branding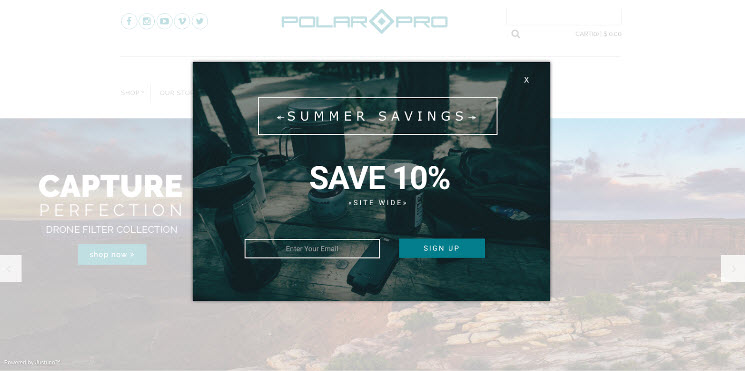 If you go to any top e-commerce website, you'll see on site promotions that are truly unique to the brand. Shoppers are much more willing to engage with promotions with attractive imagery, crafty copy, and a strong call to action. Instead of using a generic looking promotion, take a few short minutes to design a branded promotion to grab the attention of shoppers! Need some ideas? Check out these e-commerce pop up promotion examples.
Mix it up
Keep things fresh for your shoppers by mixing up which types of promotions you use. This gives you an opportunity to test what works best with your customer base and provides reasons for you to reach out to leads and customers.
Engage shoppers at key moments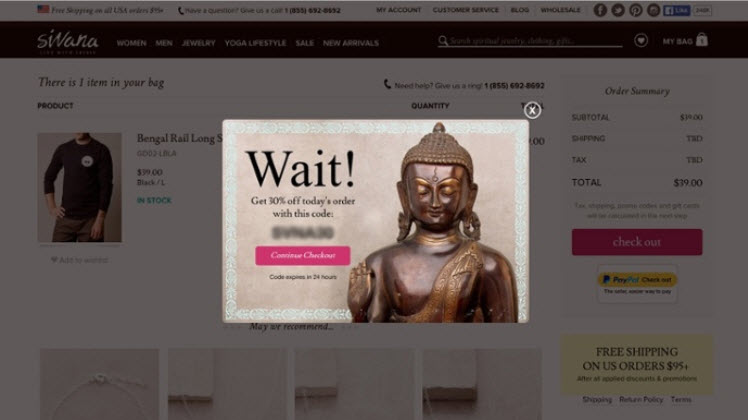 There are a few key opportunities to engage shoppers in order to drive conversions. The most obvious are when a shopper arrives on your website and when a shopper decides to leave your website. If you implement promotions to target these two important moments, you'll already be on the fast track to increasing sales conversions.
Notify shoppers of deals or opportunities within 15 seconds of their arrival. Why this soon? Because 55% of visitors will leave your website within 15 seconds. To ensure that every shopper is engaged, present an email pop up or sales promotion early in the visit.
Use an exit intent offer for one last chance at converting a visitor as they are about to leave your website. Messaging like "Before you go, sign up for our mailing list for exclusive deals" will drive email sign ups. Give them a bit of a nudge with an exit offer containing an ungated promo code. This cart abandonment prevention strategy has helped brands reduce abandoned carts by as much as 30%!
With these tips, you can turn your generic sales promotions into sales driving machines! Remember, there are multiple factors that go into driving a sale. Incorporate this into your promotions by considering the type of offer, timing, and consumer behavior.
Inspired to implement powerful e-commerce promotions? Get started in minutes and for free on the Justuno platform! The platform enables you to create and launch different types of e-commerce promotions with zero coding and development time.
To use this app, please visit the ePages App Store in your shop's administration area. Select Apps & Themes and then App Store.
https://blog.epages.com/wp-content/uploads/2021/07/promotions-5.jpg
315
848
marialopez
https://blog.epages.com/wp-content/uploads/2021/11/logo-epages-blog.svg
marialopez
2016-07-22 10:45:24
2021-10-13 15:24:11
7 best practices for high converting e-commerce sales promotions