The Psychology of Pricing
David Loschelder is Professor for Business Psychology & Experimental Methods at the Institute of Management and Organizations at the Leuphana University in Lüneburg, Germany. We had the pleasure to have him as a guest during the Commerce Summit in Hamburg and our merchants loved his presentation on the psychology of pricing. Here is a summary of the best insights on price perception and great tips for improving your pricing strategy. Bonus: Learn how to make an extra 1,24€ for every product in your online store!
Price perception and the anchoring effect
We make decisions every day about the price that we consent to pay for the products we buy. What is cheap? What is expensive? What is the fair price? Before starting, we need to admit that the price is not only determined by the cost of production of the product. The price is rather set according to what the buyer is actually willing to pay for this product.
David Loschelder had a little experiment to show us that the price we are willing to pay for a product is all relative.
Let's ask two groups of people to guess the price of a pocket watch:
Group 1 is allowed to see a price suggestion of 200 €.
Group 2 can only see a price suggestion of 4200€.
Now each group is asked separately how much they would be willing to pay for this object.
As a result, the first group is only willing to pay a price that is lower than 200€, while the other group is willing to pay around 4.200€ for the exact same product!
We just witnessed a phenomenon called the anchoring effect: When it comes to defining how much we are willing to pay for a product, we inevitably take the first value we have seen as a starting number.
The conclusion for your pricing strategy: Always start with an ambitious price! "A higher anchor price biases your willingness to pay and leads to higher absolute estimates" says David Loschelder.
People also associate price with quality, especially for expensive products. When customers are not very familiar with a brand or a product, they tend to think that the most expensive product is also the best one.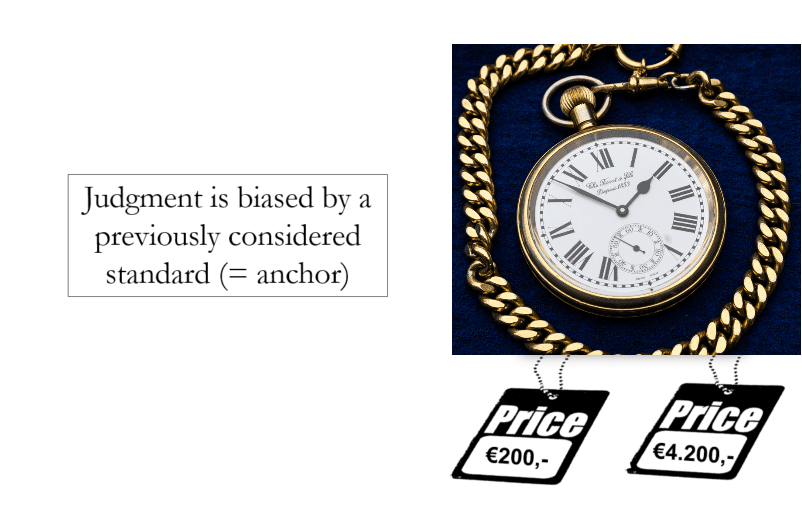 Discounts and 0.99 prices
Prices like 0.99€, 9.99€, 7.99€ are prevalent in many stores both online and offline. Many merchants manage to raise their revenues by 8 to 10 % using this pricing strategy.
These "magic prices "or "irrational prices" influence the customer's perception. The product is associated with the idea of "cheap" or "on sale".
In a similar way, discounts and promotions also make the customer feel smart (see Amazon example). There are many ways to make a product attractive using promotion strategies and achieve encouraging sales results.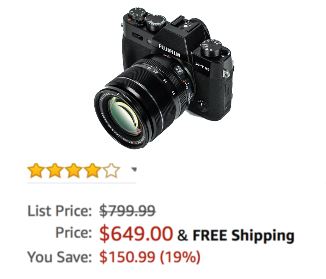 However, David Loschelder makes a point about their potential drawbacks, according to different products and contexts.
As the perception of price is closely related to the perception of quality, a low price doesn't always give the best impression of the products.
In addition, an expensive product such as a house, will be perceived as "difficult to sell" if using such aggressive discounts.
Advice for your online store: Always reconsider your target customer, the positioning of your product and the perception that you want to create. If you sell higher end products or niche products for example, other strategies might be more suitable for you.
Odd pricing is the new pricing
"I think it's time for odd prices in ecommerce" says David Loschelder.
Here is an example of odd pricing: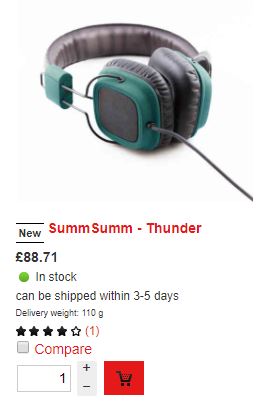 Why do you think these headphones are worth $88.71? What is the first thing that comes to your mind?
David Loschelder observed two interesting perceptions from customers:
When asked how much they are willing to pay for a product, customers always respond a lower value than the price displayed. For example, if the price is 1200€, they will take steps down and be willing to pay 1000€.However, is the price displayed is 1175€, people will take smaller steps down towards their ideal price and would be willing to pay around 1100€ !
It turns out that many customers trust highly precise prices for being the result of a careful calculation. They are perceived as very accurate regarding to the actual value of the product. Odd pricing leads to this phenomenon, called the "attribution of competence".
David Loschelder's advice: "Start ambitious and precise!"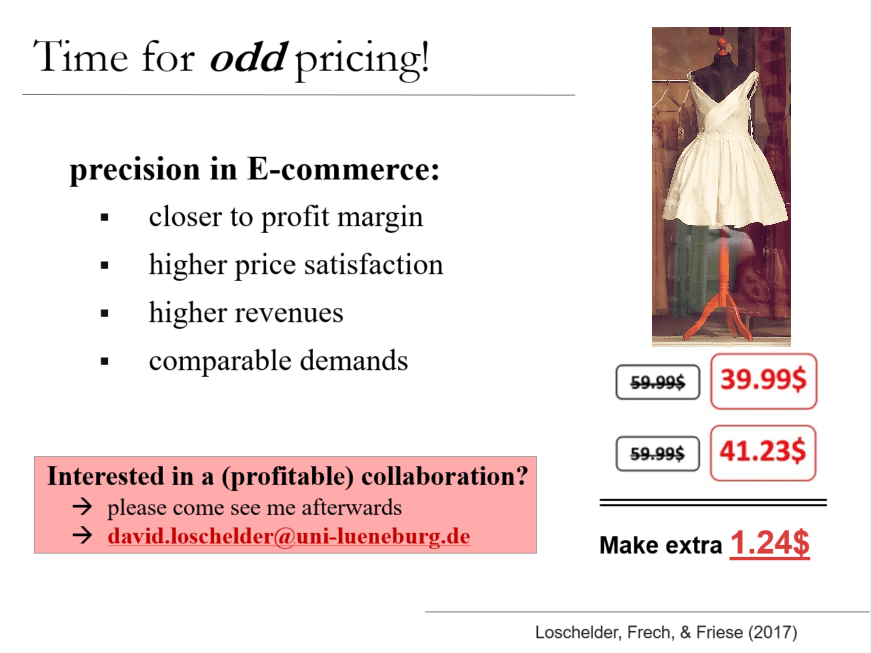 Pragmatic persuasion
Warning: you will see this everywhere next time you go to the supermarket! Let's look at these examples that we are all familiar with:
Do you know what "oxi-effect" and "coenzyme Q10" are? We don't either. However, we naturally expect these products to show some proofs of their efficiency or quality. Pragmatic persuasion works when meaningless information becomes persuasive. Sales results have proven that customers are willing to pay more for a product that has a precise claim, even if it is not being understood.
Funny fact, the customer's willingness to pay for this product is also the same when the claim says the contrary ("without xy").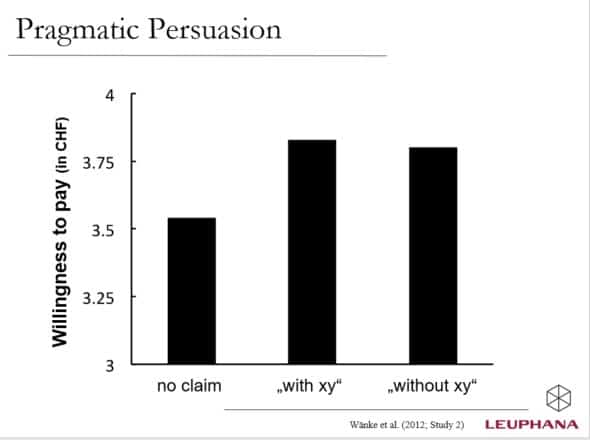 Tips for merchants: Claims that add more information on the product lead to better customer perception. The experiments on pragmatic persuasion illustrate this phenomenon very well but meaningful information is also very appreciated by the customer.
Is choice a good thing?
Choice is associated with "motivation", "perceived control", "life satisfaction". All customers would agree that they like being able to choose before buying a product.
Does this mean that you need to offer many product variations in order to sell more?
Let's not jump to conclusions. In fact, when customers know their preference, they appreciate choice. On the other side, when customers are not sure about their preference, choice becomes stressful and demotivating.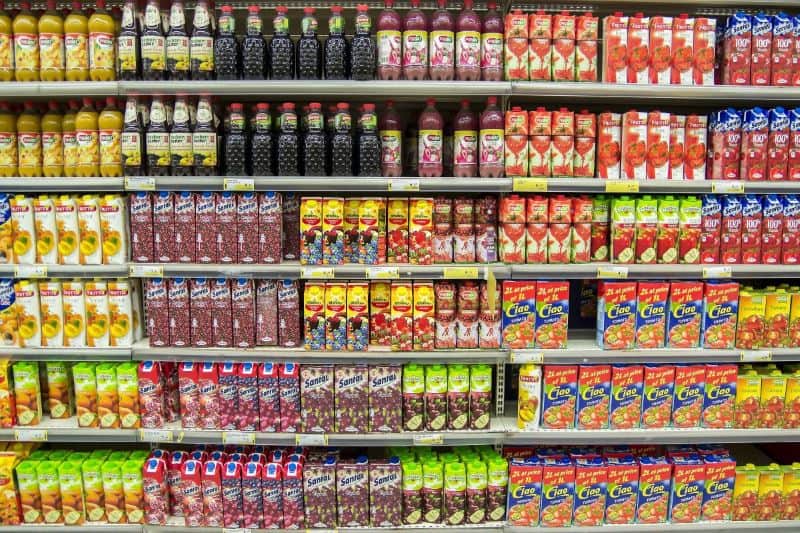 David Loschelder experimented with various marmalade flavors in a physical store and found out too much choice doesn't lead to good sales results.
When displaying 6 types of marmalade in store 40% of the customers stopped by and 30% made a purchase. Later, when displaying 24 types of marmalade, it caught the attention of 60% of the customers … but only 3% made a purchase!
Conclusion for the merchants: Offer your customer the easiest journey on your online store, from product choice to payment method choice. Find out what their habits are, what their favorite options are and stick to what keeps them in their comfort zone.
David Loschelder is Professor for Business Psychology & Experimental Methods at the Institute of Management and Organizations at the Leuphana University in Lüneburg. After studying psychology in Trier, Germany and Cambridge, UK, he did his PhD in negotiation and pricing and completed research visits at business schools in New York (Columbia) and Fontainebleau (INSEAD). His research strives for a close connection to professional practice — in addition to his research, David Loschelder provides consulting services to various clients with respect to negotiations and pricing strategies.
https://blog.epages.com/wp-content/uploads/2021/07/pricing-strategies.jpg
316
848
stodorova
https://blog.epages.com/wp-content/uploads/2021/11/logo-epages-blog.svg
stodorova
2017-11-17 12:25:50
2017-11-17 12:25:50
The Psychology of Pricing