Video: Meet ePages merchant Audrey from Barcelona
Audrey is a bookbinder who sells hand-printed paper, notebooks, jewellery and handicrafts. For a long time, she knew that her niche products would be very successful on the Internet, but she didn't know where to start. Audrey opened her boutique Les Carnets d'Audrey, in the Gracia district of Barcelona, and then launched her online store to showcase her specialized products. Discover the fascinating story of an artist who has chosen ePages to launch herself into e-commerce.
The story of a binding enthusiast
Audrey started origami at the age of 15 and studied bookbinding at the Estienne School, a major art school in Paris specializing in book trades. She understands that she prefers paper to any other material and continues her training alongside contemporary bookbinders. With her CAP in her pocket, Audrey puts down her suitcases in Lyon and opens her first workshop there: "I am passionate, but I wanted to make binding affordable for everyone – so that a little girl who marvels at a pretty notebook can indulge herself and buy it for herself. I wanted contact with the public."
She thus created L'Atelier des Petits Papiers, "a place of life to bring together art lovers." A place to live and meet, the studio is also transformed into an art gallery that offers binding courses, and sees painters, illustrators, engravers and photographers pass by.
In 2011, Audrey leaves Lyon for Barcelona "for love, to follow [my] beautiful Catalan". At the same time, she decided to change her concept based on her previous experience in France. She created her brand and boutique Les Carnets d'Audrey: "I took a bigger space to be able to have a sales space. I'm a little chatty and I like being able to share my passion with my clients."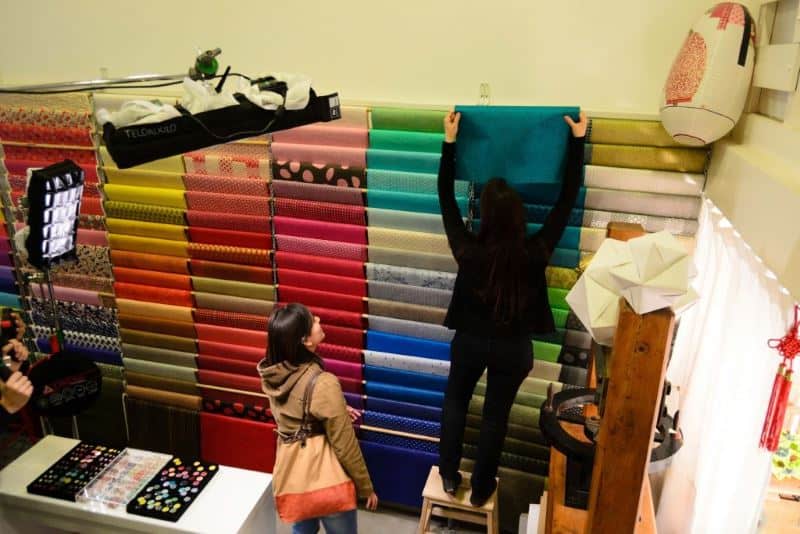 Highly specialized products with great online potential
Naturally, the setting up of the shop makes her want to create an online shop to sell her very specialized product. The papers available in her shop are specialized for binding, framing or other creative leisure. She explains: "In fact, everything I choose in my shop, it has to be things that I like, things that are close to my heart… Things that inspire me in a way."
And when she explains the particularities and differences between Japanese paper, Italian paper, or Nepalese paper, Audrey speaks with the heart: "Yes I speak of paper as I could speak of animals or living beings! [Laughs]"
"I have three main types of paper in my shop. There are Japanese papers, Rolls Royce papers. They are manufactured, and screen printed in Japan and have between 2 and 10 layers of screen printing. The second type is Nepalese paper. This is a paper that is also handmade and screen printed in Nepal. What I like is that it is also a fair-trade paper. The third kind of paper I have is Italian paper. I often say that they are more basic, they are papers made with machines. But they still have something special; they're made with environmentally friendly inks."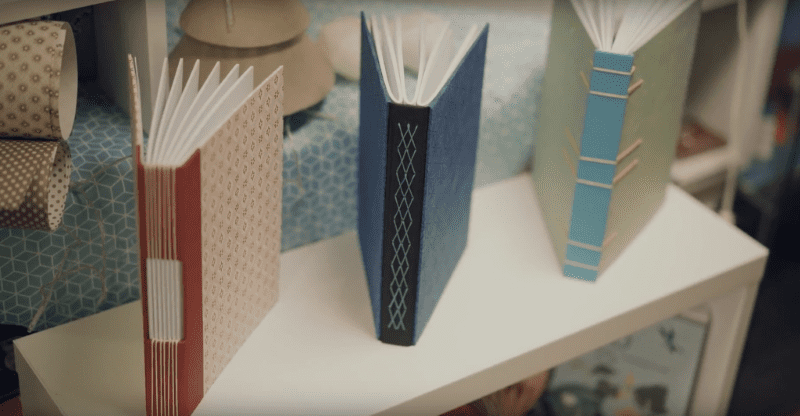 Why create an online store?
"Since I offer specific products, I also have a specific clientele. My shop is not located on a busy street, but I do not know if it would make much of a difference. As I address a specialized clientele, I am more interested to have a website for more visibility on the internet. This way people can find me easily and come to the shop, and most importantly, they can also buy online. Therefore, it is not the most important factor for me that my shop is not located on a busy street."
Audrey's online store: www.lescarnetsdaudrey.com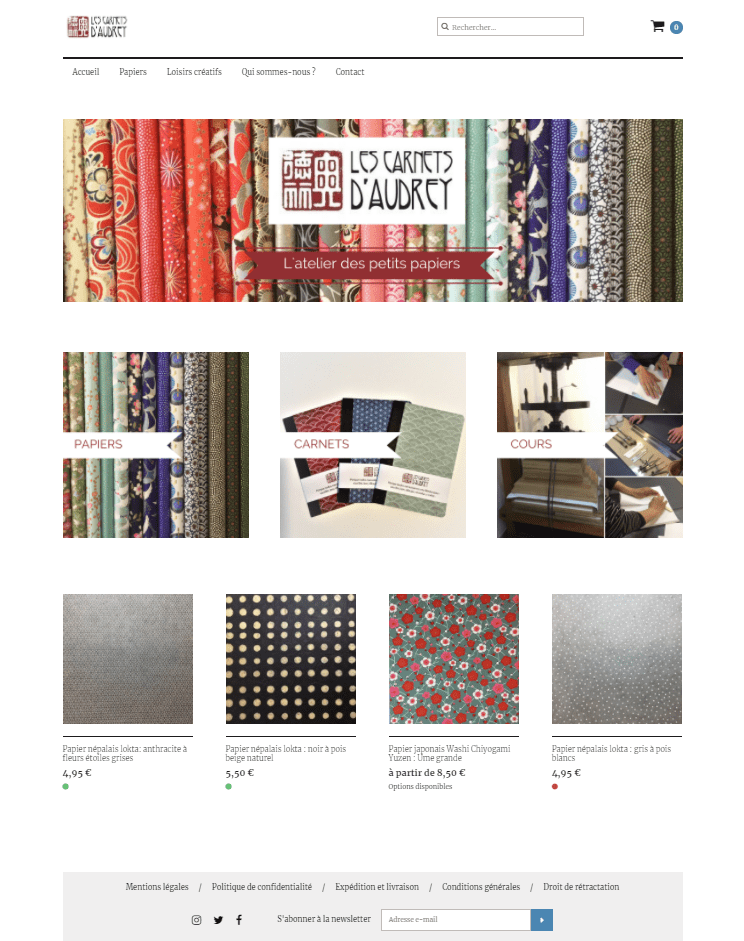 Success factors with ePages Now
A shop available in several languages: Audrey explains that it was the multi-language functionality that convinced her to choose ePages Now: "Languages are something essential for me. In my daily life I speak French, Catalan and Spanish. What's practical about ePages is that now you won't even need to click to select your language (…) The good thing is that if you come to my site, you will be directed to the right language right away. It's much better than Google translation…".
"Given that I am also from France, I have a French clientele to whom I supply paper. What I really wanted, however, was the opportunity to show the full range of products that I sell, from which people can make a selection."
Easy and accessible to everyone: She confides to us: "All the gibberish of more complicated online shops – it's not for me. My job is to be a craftsman, to create with paper or cardboard. Computers were not my domain. What I like is that, thanks to ePages, I managed to create my own online store."
"In one click, people choose their paper and place the order. They send me the payment via Paypal or credit card transfer. I am in charge of the transactions daily. I get an e-mail that says: "You made a sale!" So I can go to my site and instantly prepare the orders that have been made."
The international market outlook
"In fact, I was so happy to be able to create my own online store. It is true that I talked a lot about it to friends who are creators like me, to tell them that it was finally easy and that they had to get started. It's true that I recommended ePages, because I'm happy. They also saw the result… They saw that it was easy and that it was pretty. I think it is motivating. Because if I can do it and I can send my products all over the world, why can't they?"
Thanks to her online store, Audrey gained visibility and was able to respond to customer orders in Canada, Portugal and the United States. Soon, her shop will be available in English.
Discover her story in our video
Bonus: The making-of our video
Audrey agreed to welcome the ePages team for a video shoot. Here you can see some pictures of the shoot.



You have an ePages shop and would like to participate in our blog? Contact us via blog@epages.com!
https://blog.epages.com/wp-content/uploads/2021/07/lca-header.png
314
848
stodorova
https://blog.epages.com/wp-content/uploads/2021/11/logo-epages-blog.svg
stodorova
2018-06-29 08:29:28
2018-06-29 08:29:28
Video: Meet ePages merchant Audrey from Barcelona