Drive sales to your online shop with Facebook advertising
Considering some advertising to boost your ecommerce revenues? Over 2 billion people worldwide are monthly active on Facebook and 42% of marketers report that Facebook is critical or important to their business. Although having a business page on Facebook and sharing organic content is a must, a little advertising budget is the key to reaching a much wider audience. Here is an introduction to Facebook ads for driving traffic and sales to your online shop.
Is Facebook the right channel for you?
Many small ecommerce businesses haven't explored the possibilities of Facebook advertising. Lack of time and budget are common issues for ecommerce entrepreneurs.  However, Facebook advertising is not only for big companies, and small budgets can also highly benefit from it.
The key is always to start without neglecting a clear definition of your target groups and goals.
A quick research on Facebook demographics would help you confirm your chances to meet your target audience there.
Here are some examples of objectives for a Facebook advertising campaign for your online shop:
Lead generation
Clicks to online store
Product catalogue promotion
Offer claim (online promotions or discounts)
Brand awareness
Local awareness
Event responses
The advertising tool on Facebook Business is easy to use. The best way to know if this is the right advertising tool for you is to give it a try: pick a small budget, choose your target group criteria and a single goal. For example, I can generate clicks to my ethnic jewelry online store, targeting women between 25 and 40, who live in my city and have interests in traveling.
Advanced targeting options to reach your audience
Facebook has very specific targeting options which allows you to reach your audience very accurately. You can preselect your target group by interests, location, gender, age etc. This allows you to determine who exactly your message is going to reach. The ad will not appear to people who are not related or interested in your service at all.
Furthermore, creating an ad has never been so easy and cheap. The average pay per click is about 0.49 $ (prices vary according to the type of ad, industry etc). We will come to the different paying options later.
Multiple display options
Facebook ads are not disruptive, and they aim at being integrated into the native content. They can be placed either in the news feed (only if you have a Facebook page), or in the sidebar.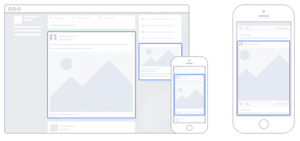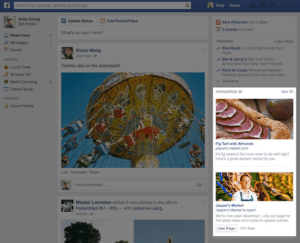 Many types of ads to choose from
The photo ad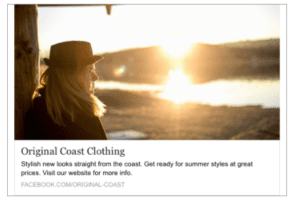 The Carousel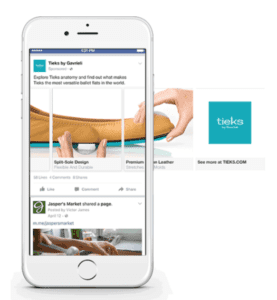 The Video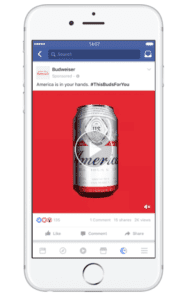 The slideshow
https://www.youtube.com/watch?v=7oEzeHB9YLw
The collection ads
Comes with various layout options.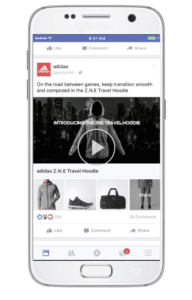 Payment options
The costs depend on what action you chose.
Here are the important ones for online shop owners:
Click to Website: You pay for each time someone clicks your ad and visits your website
Perfect for: Merchants who want to increase their shop awareness
Page post engagement: You pay for likes, comments and shares
Perfect for: Merchants who want to market special offers or events
Website conversions: You pay for each conversion on your shop
Perfect for: Merchants who want to improve their sales
As you start defining your campaign on Facebook business, you will be guided through the different steps to set your budget.
What makes a good Facebook ad?
Value proposition: There is no space here to explain in detail what your product is about so the potential customer must understand right away what's in there for him. Define your value proposition by answering the question: what is my customer getting from my product?
Image: This image is not just an illustration, it has a critical role for the success of your ad. The image is what is seen first and delivers the message even before the text. High quality pictures and design are more than recommended. Canva is a great tool that offers a lot of templates and inspiring examples.
Text and headlines: People scroll very fast, so you should catch their attention with short and clear copywriting that will show immediately:
What are you offering
How it benefits them
What to do next
Call to action: After you gained the attention of your potential costumer, the important thing is that he will click on your ad. Don't forget a clear call-to-action (CTA) in line with your objective.
Ready to make your first Facebook ad? Follow the instructions on Facebook for Business.
https://blog.epages.com/wp-content/uploads/2021/07/^425E970FECB46DE2B6E938CCB8BB828C216676F5AB02C1FCA1^pimgpsh_fullsize_distr.jpg
314
848
thomaskragelund
https://blog.epages.com/wp-content/uploads/2021/11/logo-epages-blog.svg
thomaskragelund
2018-03-01 12:26:44
2021-10-13 13:49:25
Drive sales to your online shop with Facebook advertising