e-mail marketing: Winning campaigns for your online shop
E-mail Marketing may seem a rather intrusive marketing practice, but it is actually considered one of the most effective techniques for increasing your sales. E-mails are sent straight to the customer's smartphone, tablet or computer, and therefore reach the user directly. In this article, we will look at the different types of e-mails that you can send to your customers in order to create a more special relationship with them.
An e-mail marketing campaign brings you closer to the consumer and allows you to show off new products, promotions, blog entries and much more from your online shop. Besides, it is an easy way to target certain market segments and create a personalised strategy for your customers. We have made a list of the most common types of E-mail Marketing to connect you with your customers.
Triggered e-mails: these are the automatic e-mails sent when a customer has registered, an order has been confirmed, a new product is available, a payment has been rejected, etc. These e-mails can be edited and activated in your ePages shop under Options >> E-mail events. You can find more information in this help centre article.
Follow-up emails: when a customer makes a purchase, as well as the confirmation e-mail, you can send another one to ask if they are satisfied with their purchase. In this way, they can evaluate the product and you can offer products that complement their purchase.
Engagement e-mails: in other words, emotional e-mails. These are used to gain the customer's engagement through emotion. Techniques such as copywriting, storytelling, etc. are useful for this. Touching images and moving videos play a huge role in this practice.
Newsletters: these inform the customer about the promotions and discounts in your online shop, new entries on your blog and/or new items in your online shop.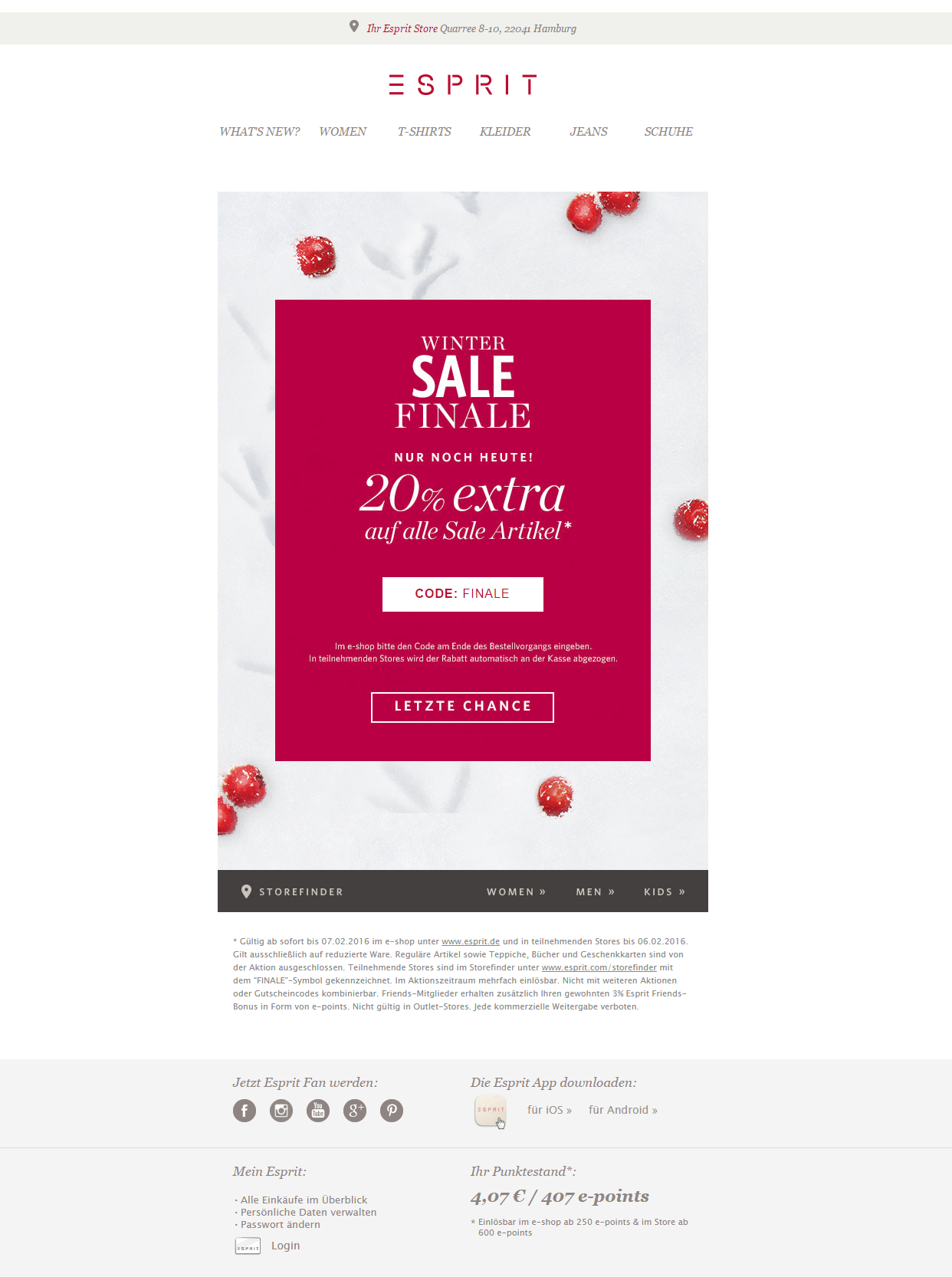 Seasonal email campaigns: these are used around special dates for your customers, such as Christmas, Valentine's Day or their birthday. Christmas, Valentine's or birthday wishes are always appreciated by customers. On top of this, you can also offer discounts. For example, you could offer a £5 discount code as a birthday present.
Abandoned shopping carts: send an e-mail to your customer asking if they want to go ahead with the items placed in their basket or offer them a discount on the final price so that they finalise their purchase. However, you must be careful with this technique, as customers may get used to this and abandon their basket every time in order to get a discount.
Reminder e-mail: send an original e-mail to capture the attention of an inactive customer of your shop, but try not to seem intrusive.
Remember that your ePages solution includes an E-mail Marketing tool, where you can edit and manage the e-mails sent to your customers under Options >> E-mail events. You can also use MailChimp, an app to create e-mail campaigns easily, available in our App Store! MailChimp offers a simple platform to use with different templates, automatise e-mails and carry out an exhaustive analysis of your campaign.
Do not think twice about it! It is essential to create an e-mail campaign if you wish to attract your customers' attention and make them loyal to your shop in a more personal way.
Happy selling!
https://blog.epages.com/wp-content/uploads/2021/07/960338787A.jpg
314
848
Efe von Thenen
https://blog.epages.com/wp-content/uploads/2021/11/logo-epages-blog.svg
Efe von Thenen
2016-06-17 11:09:56
2021-10-13 14:03:15
e-mail marketing: Winning campaigns for your online shop