New design templates for your online shop
The new ePages version 6.17 offers four new design templates for your shop.
Our templates are important for your online shop, specifying the underlying design that you can then adapt to your needs later on. The latest version of ePages, 6.17, which will gradually be released through our partners starting in the coming months, contains four fresh templates. Our designers create new templates based on the latest trends in web design, making it even easier for you to create an attractive and modern design for your shop. Even if you have already designed your shop, we suggest that you take a look at the new templates as it may inspire you to enhance your shop with a fresh new design.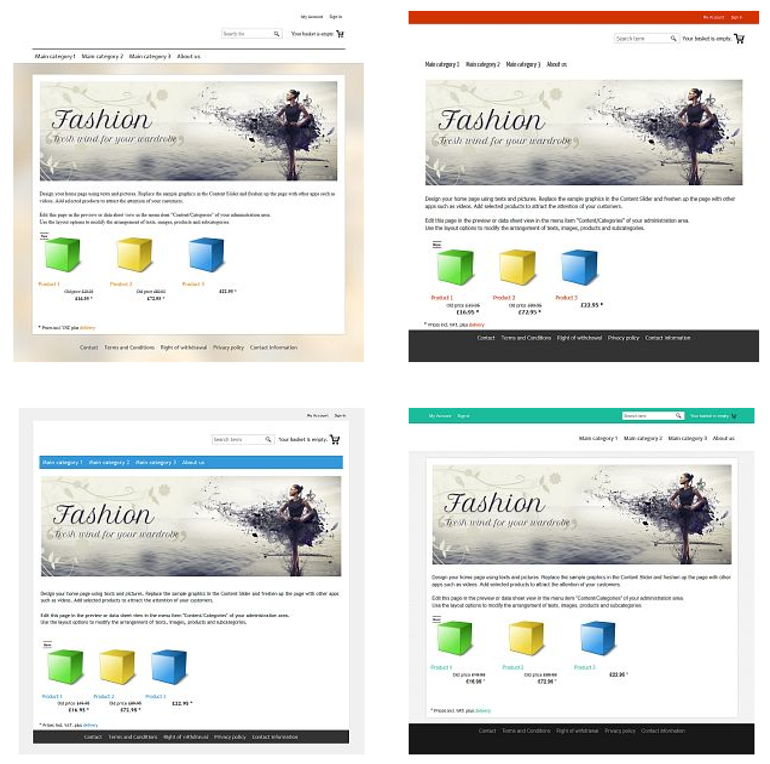 The new "Minimal" template is also the new standard design for all newly created ePages Shops.
How to change the template of your shop
1. In the administration area of your shop, in the main menu select Design and then My Styles.
2. At the bottom of the page select Add new template.
3. Select your new template.
4. Select Apply.
5. The newly created style appears under Additional created styles. If you need to edit the design for the new style, select Start quick design or Start advanced design. You will now be in either Quick design or Advanced design where you can finish the design. To activate the new style for your shop after adjusting the design, on the main menu select Design again followed by My Styles.
6. To activate the new style, select Activate now besides it.
The new design will now be displayed to visitors of your website.
Please note that these changes might be contained within a later version of ePages 6.17.
https://blog.epages.com/wp-content/uploads/2021/07/laptop_tisch.jpg
314
848
Efe Acunaz
https://blog.epages.com/wp-content/uploads/2021/11/logo-epages-blog.svg
Efe Acunaz
2014-10-28 10:12:29
2014-10-28 10:12:29
New design templates for your online shop