Defining your shipping strategy: what to consider?
Shipping options and speed of delivery are two crucial aspects for conversion in your online store. There is nothing that customers like more than free delivery. However, what's good for them does not mean it will be good for you as the merchant. It's important to clearly inform your costumers about your shipping terms. This information should be displayed in a way that your visitors cannot miss it: perhaps in the header with a link to a separate page or in an info box. Read on to learn more about delivery, logistics and order processing.
Shipping costs and speed of delivery is info that customers should see at a first glance: how long the delivery process will take, how much it will cost, etc. Allowing them to easily find this information will help speed up their purchase decision. Make this info easy to find, place it in prominent positions and display it consistently across your website: on your home page but also on all your product pages.
How to choose a logistic company?
There are many logistic companies out there and they all have many different offers and conditions. Before picking one, it is advisable to compare them and try to find which one is more convenient for your business in terms of rates and offered conditions. Normally the more packages you send, the more opportunities you'll have of getting a special deal. Most logistic companies are familiar to trading with online retailers and often offer great deals after some negotiation.
Optimise logistic costs
If you only sell shoes, books or items of similar size, then you only need to offer a standard shipping rate that applies to all packages. With similar products, it is easier to calculate delivery costs and decide whether you want to integrate them in your product prices so you can offer free delivery or add the cost at the checkout.
But if you have products differing in weight or size, you can group them by similar characteristics and choose a delivery type and rate for each group.
Shipments to different regions and countries
As with the package size, you must adjust rates according to geographical destination. Most logistic companies have different rates depending on the delivery destination. It's also important to understand that sending products within Europe may involve problems with the Spanish islands, as delivery to these destinations can be complicated depending on the provider. In that specific case, people living on these islands often make a targeted search for online shops that deliver to these destinations at attractive rates. The same also applies to German islands like Helgoland. So consider whether you may even want to exclude delivery to these islands completely.
Tracking delivery
Online customers are impatient and sometimes suspicious, however, there is an easy solution for this. With the e-mail events of your online shop, you can keep your customers informed about their orders by sending an e-mail every time the order status changes. With these emails, you can decide when and how you want to inform your customers: when the order is delivered, paid or many other options (see picture below).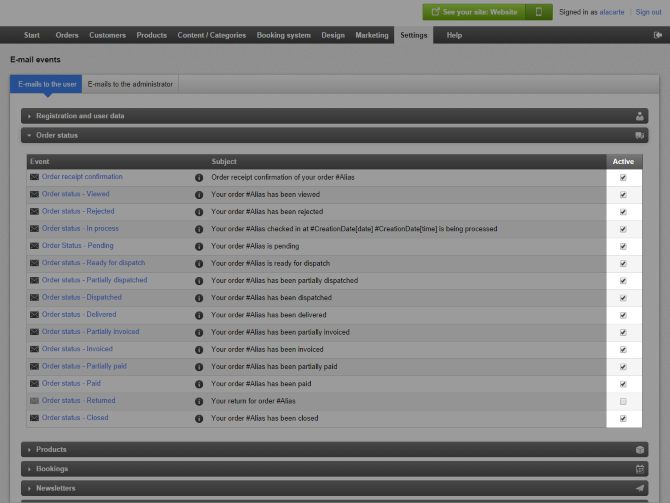 Together with your e-mail events, logistic companies such as DHL or UPS also inform your customers about the status of the delivery. Once the order is shipped, they send both you and your customers an email with the tracking number in order to keep you informed and overcome the customer's distrust of not knowing whether the order is going as planned.
Free delivery vs. delivery costs
Free delivery is always a good point of difference for customers, especially for domestic orders. In those cases, deciding to offer free shipping will require you to either absorb the costs or slightly increase the prices of your products to cover it.
You can also offer free delivery as a special promotion for a concrete period of time (for sales, Christmas, etc.) or rather decrease the usual delivery costs to a certain reduced amount.
With your online shop you can easily set free delivery from a certain amount or only to certain customer groups to reward them for their loyalty. You can find these options by selecting: Settings >> Delivery, select one type of delivery and click on Settings or Customer groups.

If free delivery is not your thing, you can also offer a flat rate for every package no matter how high the order is. That, again, works especially well for domestic orders or products with relatively similar sizes and weights. If you are selling heavy, big-sized products, offering flat rates might not be the most suitable option.
Free store pickup:
If in addition to your online store, you have a brick and mortar store, you can offer free store pickups as an alternative delivery method. By doing that, not only can you guarantee a free delivery option to your customers but you get the chance to get them into your shop and start building a personal relationship with them.
https://blog.epages.com/wp-content/uploads/2021/07/paket3-3.jpg
314
848
Efe Acunaz
https://blog.epages.com/wp-content/uploads/2021/11/logo-epages-blog.svg
Efe Acunaz
2015-06-30 07:00:45
2015-06-30 07:00:45
Defining your shipping strategy: what to consider?