E-mail marketing: The best KPIs to measure your success (infographic)
This article from Lars Tinnefeld, e-mail marketing expert at Trusted Shops, provides you with an overview of the most important KPIs for your newsletters and how to measure them.
If you want to optimise your newsletters, you need to pay attention to the so-called KPIs (key performance indicators). Countless key performance indicators exist in e-mail marketing, and the newsletter apps in the ePages App Store like Mailchimp allow you to track most of them. But which KPIs are the ones you should have a look at?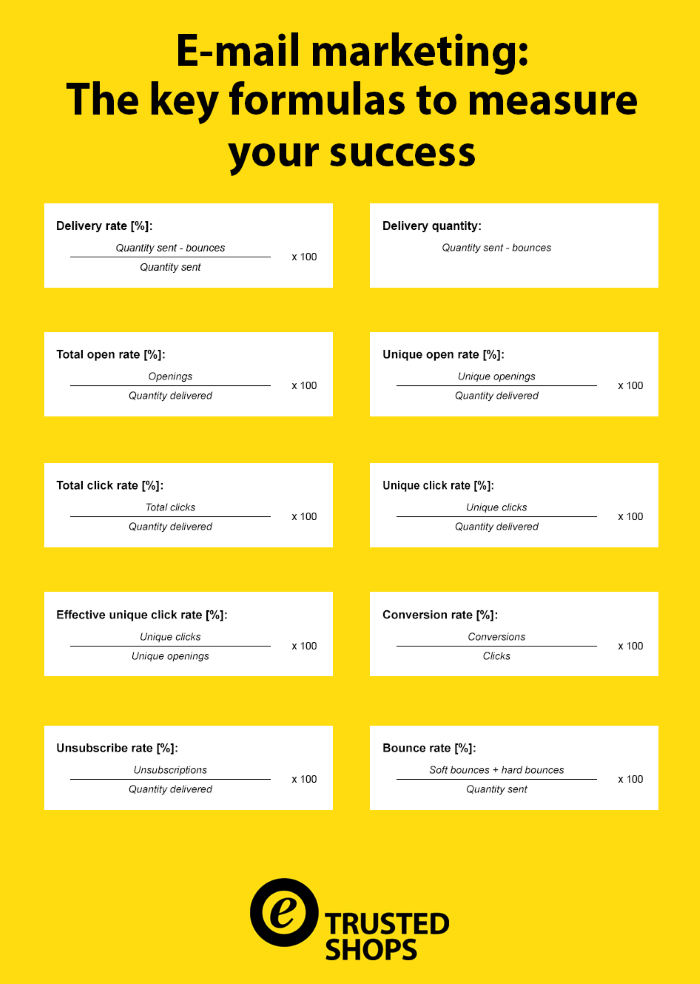 1. Delivery rate
How many people actually received your e-mail? The delivery rate provides you with this information. E-mails which could not be delivered are referred to as bounces (see also: bounce rate). Hard bounces are e-mails which have been immediately rejected. Common reasons for this are non-existent domains or accounts. Soft bounces, on the other hand, are e-mails which temporarily can't be delivered, as in the case of an overfilled mailbox. To calculate the delivery rate, the bounces must be deducted from the amount of emails which were sent. This result must then be divided by the quantity sent and multiplied by 100.
2. Open rate
The open rate indicates the percentage of sent or delivered e-mails which were actually opened. The open rate can be calculated either as a total or unique figure. For the total open rate, all openings made are divided by the delivered quantity and the result is multiplied by 100. For the unique calculation, only the first openings of e-mails are relevant. This means that if a recipient opens the same mail 3 times, it will only be counted as one opening.
3. Click rate
The click rate measures the number of clicks compared to the amount of deliveries. For example, the total click rate is 14.3 percent when the content is clicked on 143-times per 1,000 delivered emails. In addition to the total click rate, the unique and effective unique click rates can be measured.
4. Unsubscribe rate
This indicator gives the percentage of newsletter recipients who unsubscribed after receiving the newsletter.
5. Bounce rate
Bounces are notifications about undelivered e-mails which have been automatically returned to the sender. This refers to the percentage of the e-mails returned by the mail server compared to the total number of e-mails sent.
6. Benchmarks
All these figures will be of no help if you don't set personal goals which you can then use to measure your final success. You should therefore realistically answer the following questions: What you want to achieve? By when and with which method?
https://blog.epages.com/wp-content/uploads/2021/07/email-marketing-kpis.jpg
314
848
jtinker
https://blog.epages.com/wp-content/uploads/2021/11/logo-epages-blog.svg
jtinker
2016-05-20 13:48:21
2021-10-13 14:36:54
E-mail marketing: The best KPIs to measure your success (infographic)