"Web design must focus on conversion": Thomas Laleike, ePages web designer
Websites have undoubtedly evolved from designs where only the content mattered, to designs where the pictures now play the main role. Today we bring you an interview with Thomas Laleike, web design expert at ePages, to dig a bit deeper in the design world, how to stay on the crest of the wave and what you can learn from it for your shop design.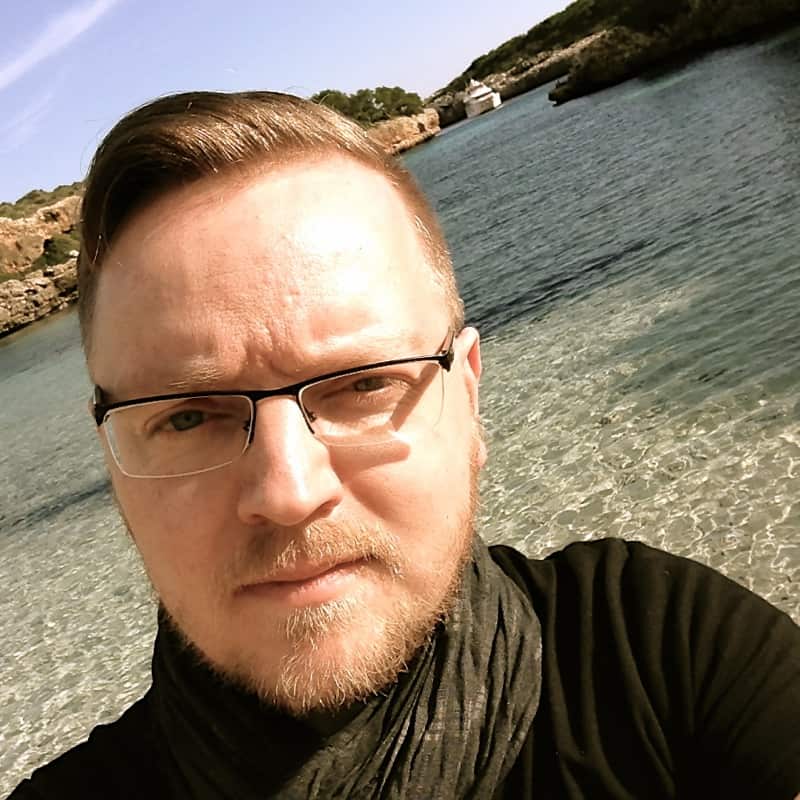 Thomas Laleike is the team leader of our web design team and has been working with us for more than 6 years. With previous experience in companies like Otto and Framfab, his design skills and his knowledge about web communication have helped ePages' web to always be up with the latest trends. The following six images correspond to the latest design of the ePages website. It is remarkable to see how much the layout trends have changed over the years. Check it yourself! (Click on the pictures to enlarge)
A few years ago, companies used their websites as a platform to place as much information as they could. The text-based websites were full of selling propositions, benefits and advantages. The pictures were not a main thing (yet) but something to decorate the content.
Over the years, the pictures started to play a more important role, putting aside the long and tedious texts and placing, instead, concise and concrete information for the users. The main rule is clean designs with focused information and call-to-action buttons that drive the users all across the websites.
All the changes that happened within web design over the last few years are, of course, also visible on our corporate website epages.com. The pictures now take a very wide space on the start page, visually telling the story that was previously told by vast amounts of text. That's why one of the first things we asked Thomas was, how designers always find the correct pictures. "Sometimes we buy our pictures at iStock, Corbis, Photocase or other big stock photo agencies. But most of the time we try to take the pictures ourselves to have better control of the content and, of course, unlimited rights!" says Thomas.
Knowing how big the changes were in only ten years, we also asked Thomas what his predictions in terms of web design are: "The fonts and the visuals will still play the main role as a way to create stories or emotions. Flat and simple designs will keep being the conversion key within the next years."
And this is exactly one of the key points Thomas has emphasised when it comes to web design: "Focus on conversion. Every website tells a unique and different story: either they sell products, offer services or all kinds of online entertainment. So you need to understand your clients and what they are looking for when they come to your site. The design must clearly present the goal of the website and always drive to conversion."
But if design is so relevant for conversion, how can someone know if a website starts looking outdated and needs to be redesigned? "Redesign is not always necessary. We always try to keep an eye on inspiring websites to get inspiration: smashingmagazing, theinspirationlist, awwwards, dribbble and so on. But, if changes are needed, I recommend to do the changes step by step and base them on previous analytics or A/B testing".
Even so, mistakes are a human thing also in web design, right? "Of course, I've done a lot. For instance, a while ago I planned a complete revamp of our website instead of planning constant updates of design and content. That was a mess…!"
And last but not least, what would you recommend in terms of search engine optimisation? "Merchants should always keep an eye on onsite optimisations (both technical and structure-wise). This means keeping the content up-to-date on a regular basis and creating stories that encourage people to come back to you: either in your blog, in your social network, in a periodic newsletter etc."
Keep in mind that web design is something essential to improve your shop's conversion rate and needs to be done slowly but surely! Check further info on how to optimise your design in these blog articles or visit our Design my Shop services to get support from our design experts.
https://blog.epages.com/wp-content/uploads/2021/07/thomas-design.jpg
314
848
Efe von Thenen
https://blog.epages.com/wp-content/uploads/2021/11/logo-epages-blog.svg
Efe von Thenen
2014-11-21 10:34:58
2021-10-13 15:31:56
"Web design must focus on conversion": Thomas Laleike, ePages web designer