How to create your online payment portfolio with Mollie
Besides the products you offer, the payment portfolio is an important success factor in ecommerce. If customers don't find their preferred payment method, they are more likely to cancel the purchase. In this blog article, learn more about smooth checkout processes and other key factors for generating higher revenue whilst saving time and effort through payment service providers like Mollie.
Payment methods: The more, the better?
As an experienced merchant, you certainly know the most popular payment methods of your shop. For most customers, these are PayPal, purchase on account, credit card and payment by direct debit. But new payment methods such as Apple Pay and "Pay Later" options are catching up significantly. Which payment method provides the greatest incentive to buy still varies per individual buyer. That is why you can increase your customer satisfaction easily by offering suitable options for them.
ePages Now has several integrations with which you can offer payment methods for your online shop. These can either be integrated individually into your online shop or even faster with payment service providers. With integrations like Mollie, you can build up your payment portfolio by connecting several payment options at once.
What advantages do payment service providers offer?
Payment service providers (PSPs) are third-party services that offer several payment methods at once. This saves time and effort since you don't have to sign individual contracts and create multiple accounts. In most cases, they also take on the risk of non-payment, so you can focus on the rest of the processing. With Mollie as your payment solution, you cover a comprehensive payment portfolio while benefiting from advantageous conditions.
The Mollie portfolio at a glance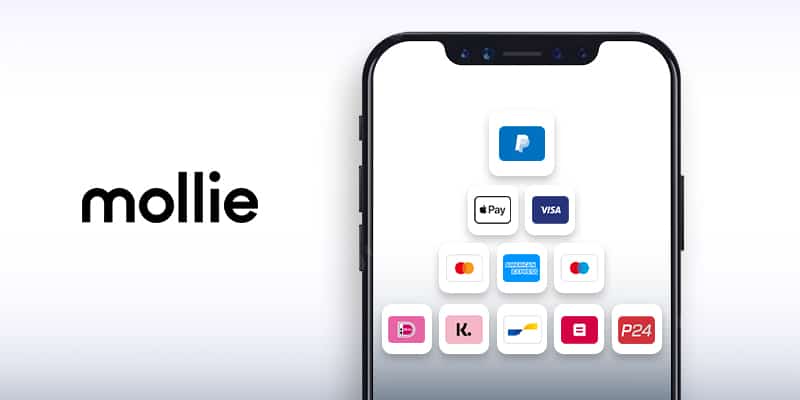 The new shop payment methods provided by Mollie offer a convenient all-in-one portfolio with which you can offer the most popular payment methods, local payment methods, debit cards such as Apple Pay and more with just one solution.
Through Klarna, "Pay Later" options are also available for your customers. This increases the chance of purchase completion, especially for expensive purchases, as customers can benefit from maximum flexibility and worry-free processing.
Convenient centralisation
Integrating your entire portfolio through Mollie not only saves you the hassle of registering with individual providers, but you also have access to all data in one central dashboard to manage your payments and any refunds. With the Mollie app, you can manage your payments conveniently from anywhere: Track your transactions, keep an eye on your sales and be notified of new payments immediately. In addition, QR codes can be generated with which merchants with a stationary presence can also accept payments selling locally. This way, customers can also pay with their smartphone if they don't have a wallet at hand.
Furthermore, there are standardised conditions that you pay to Mollie instead of concluding multiple contracts. These charges differ depending on the payment method. For all conditions and payment methods of ePages Now visit the website of Mollie.
Seamless payment experience
By integrating Mollie into your online shop, you can offer your customers all popular local and international payment methods. Once activated, these will then be displayed in the checkout. This allows you to choose the methods that suit your customers and adapt them at any time.
How to connect Mollie to your shop
Mollie's payment methods can be activated in just a few steps:
Create a Mollie account
Go to your shop administration. Under Settings > Payment you can connect your online shop to Mollie.
Configure all important basic settings in the shop's administration area: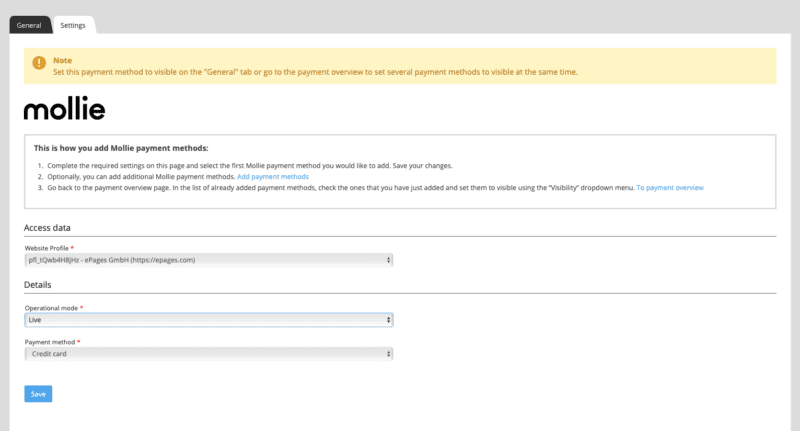 4. Go back to the payment methods overview. Click on "Add Mollie payment methods" to add further payment methods (you can also activate all available methods in your Mollie account):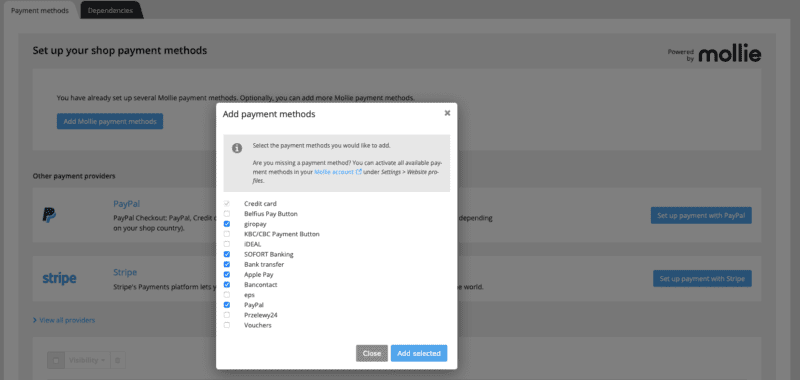 5. Select the desired methods and switch on the visibility. Now, all selected payment methods will be seamlessly integrated into the shop's checkout: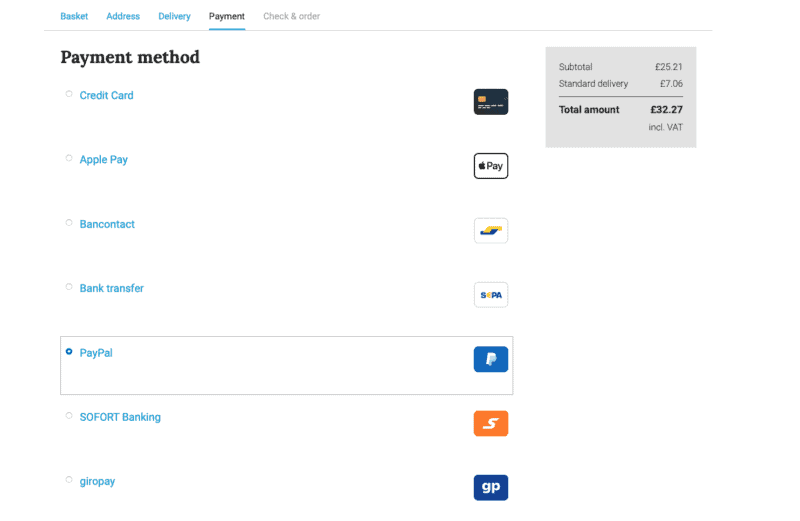 Once your Mollie account has been authorised, you can accept payments and are ready to start selling online! Interested in more tips for your start in ecommerce? Read our checklist on how to get started with your online shop or learn how to collect even more ideas for new products you could be selling.
Als Content Manager bei ePages ist Sarah für redaktionelle Inhalte und Videocontent zuständig. Im ePages-Blog stellt sie Onlinehändlern Marketingtipps, rechtliche Updates und Infos zur ePages-Software zur Verfügung, um ihnen den Einstieg in den E-Commerce zu erleichtern.
https://blog.epages.com/wp-content/uploads/2022/08/Mollie_ePages.png
314
848
Sarah Böhm
https://blog.epages.com/wp-content/uploads/2021/11/logo-epages-blog.svg
Sarah Böhm
2022-09-08 13:51:35
2022-09-08 14:09:22
How to create your online payment portfolio with Mollie