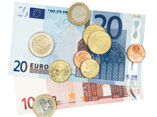 Setting up your shop for deferred payments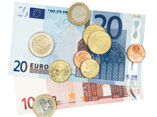 In challenging economic times, every last euro counts. A lot of customers hesitate to make purchases. So why not boost your sales by allowing customers to pay by instalments. Let us show you how.
Particularly in the case of relatively large purchases, many customers gladly opt for instalment payments. Online merchants which offer customers this service will enjoy advantages over the competition. You must, however, always keep in mind that doing so entails long-term relations with the customer in question. The risk of non-payment namely rises due to such risks as a customer's inability to pay. In order to minimise this risk, you can choose to grant only regular customers the option of paying by instalments.
If you would like to offer customers the option of instalment payments, then you must first create a table of all relevant data. Specify rates as a function of the payment period for instalments. As an additional variable, you can define threshold values which permit the option of paying by instalments or the validity of new conditions.
| | |
| --- | --- |
| | Click on Settings and select "Delivery and payment". |
In the menu which appears, select "Instalment payment" to access the settings.

In the tab's text window, you can enter information regarding instalment payments, which will then be displayed in your customer's shopping basket. You can inform them, for instance, of those payment methods for which instalments are an option. In the table underneath, you can enter the minimum amounts from which individual conditions apply as well as nominal interest rates for the respective payment periods.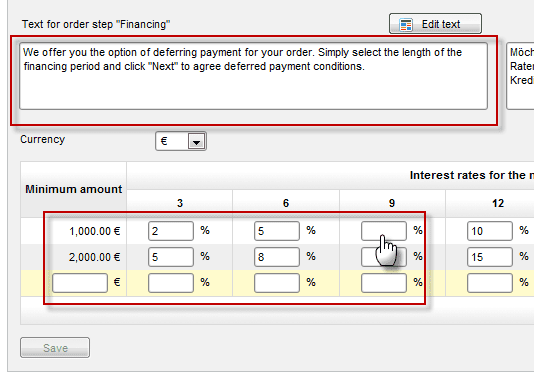 Assigning instalment payments to individual methods of payment

Click in the tab on "Payment methods" in order to respectively associate the option of instalments with different payment methods. Within the list of existing methods of payment, click on a given method to access its settings.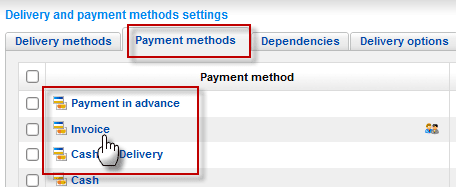 Via the "General" tab, you can enable payment by instalments for the method of payment selected.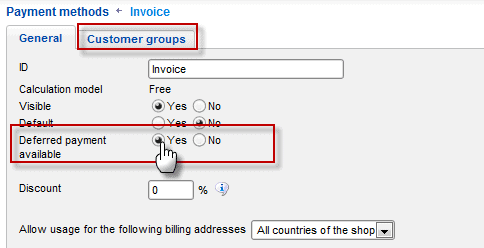 With regard to most payment providers – such as PayPal, Sofortüberweisung or T-Pay – you cannot enable instalments. This is so because service providers are not thus orientated. Worldpay and Moneybookers are two exceptions. They namely offer recurring payments as part of their portfolios. In this case, the shop software reports to the payment provider the duration of recurring charges and the amounts charged in accordance with the table of instalment payments. The payment provider will then charge the appropriate amount to the customer's (credit-card) account every month. Your advantage: You do not need to worry about setting up standing (direct-debit) orders with your bank. Your disadvantage: The payment provider collects an activation fee for the service of handling recurring payments.
Important to know: A payment provider does not act as a "bank" or "lender" under these circumstances. As a result, you as a merchant will receive payment not in one go, but monthly instead. In addition, payment providers do not guarantee payments. If a customer encounters financial difficulties, then your only option will be to collect outstanding payments.
Therefore, you should consider offering the option of paying by instalment to regular customers only.
Instalments only for regular customers

Create a new entry (e.g. a direct debit) regarding methods of payment. Then click on the payment method which you just created to access its settings. Specify a new name for this payment method – such as "Instalment payment via direct debit" – and facilitate instalments.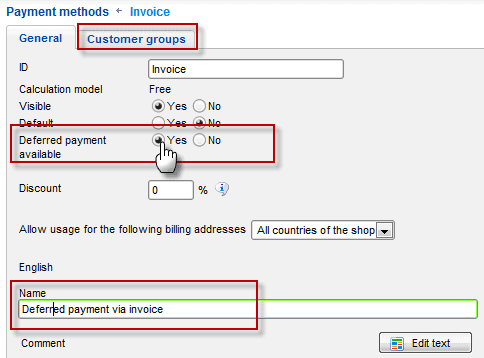 Afterwards, click on "Customer groups" to reserve this method of payment for certain customers.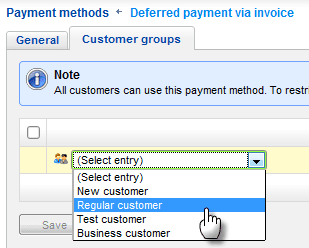 Paying by instalments via direct debit will appear in future as an option in the shopping baskets of your regular customers only. Repeat the aforementioned steps for all other payment methods for which you would like to allow regulars to pay by instalments.
Volker Schwarz studied German, History and Politics at the Ruhr-Universität Bochum. From 2004 to 2009 he worked as a freelancer for several marketing and communications companies in Hamburg, including e-commerce companies. Between August 2009 and December 2011, he worked as an online editor at ePages.
https://blog.epages.com/wp-content/uploads/2021/07/ratenzahlung_visual.png
117
157
Volker Schwarz
https://blog.epages.com/wp-content/uploads/2021/11/logo-epages-blog.svg
Volker Schwarz
2010-11-05 13:44:10
2022-01-10 22:37:45
Setting up your shop for deferred payments