Internal links: Avoid these mistakes to get a better Google ranking
Many merchants are underestimating the relevance of internal links – but these links are one of the most important measures for optimising the ranking of a website on Google and other search engines. In our article, we present you five mistakes that you should avoid to make.
Internal linking strengthens the subpages of your shop
Usually, most of the subpages of a shop do not get enough external links that could be used by search engines as a ranking signal. This means that these subpages do not get enough "power" in order to rank on Google & co. By strategically implementing internal links, the relevance of these subpages can be boosted.
How should the internal linking work?
You should start with the navigation of your website, since it determines its structure. A good internal linking structure begins with the start page. Ideally, the structure looks like a pyramid:
The start page (level 1) is on top of the pyramid.
On level 2, there should be category pages.
The product pages are on level 3.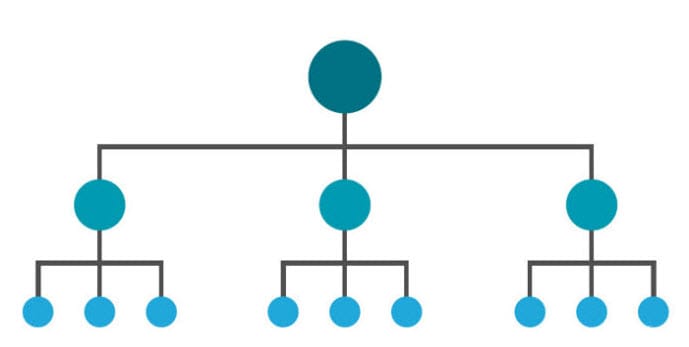 Mistake #1: Linking to irrelevant pages
A sustainable SEO strategy involves structured linking that makes it clear to Google which pages are grouped together and are relevant. It is not worthwhile, for example, to link to accessories that receive little resonance anyway. Rather, only those subpages / categories / products should be strengthened which already have a high search volume.
 Mistake #2: Arbitrary internal linking
There is no point in linking arbitrarily to any pages in the onlineshop. A fashion online shop, for example, does not need a link to summer dresses on the category page for winter boots. Instead, it should be linked to related categories and to suitable products to give users a meaningful orientation.
Do not forget: The higher the user-friendliness of a website, the more likely visitors are to return. In addition, usability is a quality criterion for Google to evaluate a website.
Mistake #3: Set wrong anchor texts
An anchor text is a text with a link behind it. If possible, those texts should give an idea of the content of the page they are linking to. That way both the user and Google can understand what is to be expected on the linked page. Often website owners use anchor words like "here" or "there". An example: "You can find more summer shoes here." These words, however, have no meaning by themselves. The user does not know what to expect if he or she is only looking at the link text.
Therefore, an anchor text should give the user an idea of where the link is leading to. At best, you use relevant keywords in the anchor text, because they offer Google a clue to which terms should be ranked in the search engine results.
Mistake #4: Links are not visible to the user
This may sound somewhat banal, but links must be marked as such. Some website owners design the internal links so unobtrusively that users cannot recognize them as such. The user-friendliness of a website suffers because of that.
Always make sure to mark the internal links in color or underline them.
Mistake #5: Links have no semantic reference
Many website owners are struggling with including keyword links in the content of a page. This often results in sentences that are unnatural and are not easy to read for the visitor. Since Google's "Penguin" update, such over-optimized pages with an unnaturally high number of keywords or missing semantic contexts are regarded as poor quality and are accordingly punished in the ranking.
Therefore, be sure to use legible texts that are grammatically correct. Use keywords that are related to the text.
Conclusion: Use internal linking wisely
Internal linking is based on two main objectives: The user as well as the search engine should better understand the website. Your gut feeling is a bad adviser when optimizing internal links – you should always proceed strategically.
https://blog.epages.com/wp-content/uploads/2021/11/logo-epages-blog.svg
0
0
ramenr
https://blog.epages.com/wp-content/uploads/2021/11/logo-epages-blog.svg
ramenr
2017-02-10 11:00:44
2017-02-10 11:00:44
Internal links: Avoid these mistakes to get a better Google ranking