Essential SEO Tips for Shop Owners (Part I)
SEO is an essential part of attracting traffic at the first stage of a buyer's journey. It targets new people who are completely unfamiliar with your product or service and gives them a chance to get to know your brand.
Search Engine Optimization can be divided into two parts. The first part is on-page SEO – a complex optimization process for improving your website, so it can better meet search engines' requirements and be more visible in search results. The second part is off-page SEO and mainly concerns establishing relations with other websites that result in backlinks.
Although the topic is deep and wide and we could spend a whole day explaining each and every aspect of it, today we will focus on the first part of SEO and what is essential for you as a shop owner.
1. Do The Keyword Research
Once you decide to sort-out your SEO, remember that the process actually starts with defining your buyer personas and conducting solid keywords research accordingly; this includes identifying all the keyword opportunities for your business and compiling them in a list.
Sit with a pencil, piece of paper or, eventually, it can be an excel / google docs spreadsheet 😉 and spend a moment on analysis and reflection to note all the queries your prospects might think of and insert in the search bar.
What needs do your products and/ or services fulfill, who are they necessary for…etc.
Make sure you write down anything that comes to your mind and then add all possible variations. This is how you build keyword ideas around your product(s).
Once your initial keyword list is complete, it will act as the foundation for discovering other opportunities. You will detect them in the following keyword research part by using Google Suggest and tools like Adwords Keyword Planner, Wordstream Niche Keyword Finder and others.
To make data-driven marketing decisions you need to monitor your keyword ranking daily. This is why we recommend you use Positionly because it provides you with a reliable keywords monitoring tool and many other super useful SEO tools for keeping your website SEO under control.
2. Watch Your Competitors
It i's essential that you monitor your online competition, especially when they are the market leaders. You should literally tread upon their heels and recreate all the moves that helped them succeed. How can that be accomplished?
You need to set alerts and watch their mentions, citations and also monitor their backlinks. In this way, you will have a clear picture of where they stand, and being up-to-date will allow you to act fast when necessary. Alerts can also help you learn about the relationships your competition has with its customers and business partners and enable you to follow in its footsteps.
What are mentions and citations? According to the definition, they are references to a specific resource. When a company's brand name has been used somewhere on the web, with or without a link, then they've got themselves a mention or citation. Mentions and citations can come from various sources like social media channels (Facebook; Twitter; LinkedIn), from the news, blog posts, forums or even images.
Mentions and citations can easily be tracked by web monitoring tools such as Mention or Brand24. These two let you keep all mentions and citations on one dashboard so you can keep an eye on your competitor's next steps and see what outcomes they bring before you decide if it's beneficial to do something similar.
On the other hand, to monitor backlinks you need a separate software that's more SEO related, like Positionly. When you add your competitor's website to Positionly, you will be able to preview all of their inbound links brought to you in a simple-to-read report. Once you have the preview, it's important to understand how to evaluate it and distinguish high quality from poor quality backlinks. Your aim is to collect authoritative, high quality backlinks only.
Monitoring mentions, citations and backlinks of your online competition gives you something big: marketing ideas that you wouldn't get otherwise. It is necessary to have a broad outlook on your market and rely on somebody's success to grow your own brand and develop its authority and quality.
3. Curate the best content in your niche
In today's SEO and content marketing, all revolves around the quality of content that you create. You won't win by publishing short pieces often, but a better strategy is to create long articles that are not only well-written, but also convey thorough knowledge and information about the specific topic. Long-form articles will help you establish your expertise in a particular field and glue your visitors to your content. Your readers will begin to trust and rely on you and your knowledge.
This is what you need to be up to. Moz has even called this phenomenon 10 X content. In order to surface in search results, you should compile the best content possible. To write 10 X content you must deliver pieces that discuss all the possible questions your users may have; more so than your rivals from the top ten results in search engines. The length of your text always works in your favour, too.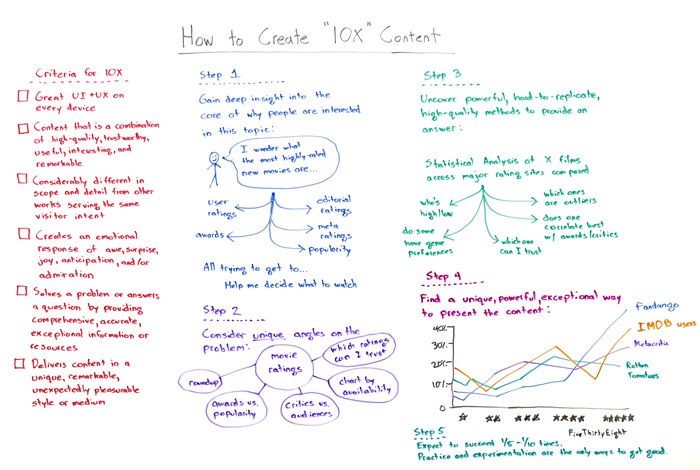 4. Remember about on-page SEO
On-page SEO is a technical part of the process that focuses on optimizing your assets so they're adjusted for search engines' requirements and user expectations. Both search engines' requirements as well as user expectations evolve and continue to get more and more sophisticated over time.
More precisely, on-page SEO is about how you leverage keywords on your website. You must disperse them naturally throughout your work; however, there are particular locations where including your keywords proves to be the most favorable.
All the pages of your website should be tied to strategically chosen keywords, and each page should be correctly optimized for the assigned phrase.
It i's necessary that a keyword is included in the URL of a page, in the title tag, in a Heading Tag (H1) and one of the H2 tags.
It should also appear in the first 100 words (so in the first paragraph) and then just repeated naturally with the flow of your text.
Moreover, you should include variations of the primary phrase, called LSI keywords. LSI keywords are nothing else but SEO terms for related keywords or synonyms.
Apart from the use of keywords, on page SEO also refers to mastering headline and meta description writing. Headlines and meta descriptions may not directly stand behind the visibility of your resources, but they strongly influence your click through rate. Once you make them compelling, more people become interested in what you have to say. And remember, behavioral SEO factors (next to backlinks) are important factors for the search engines, too.
The following aspects of SEO refers to technical factors like establishing SEO friendly architecture, mobile friendliness and speeding up your website and will be cover on the second part of the series: Essential SEO tips for shop owners.
https://blog.epages.com/wp-content/uploads/2021/07/seo-linkbuilding-1.jpg
314
848
mrouet6
https://blog.epages.com/wp-content/uploads/2021/11/logo-epages-blog.svg
mrouet6
2016-09-27 09:30:33
2016-09-27 09:30:33
Essential SEO Tips for Shop Owners (Part I)