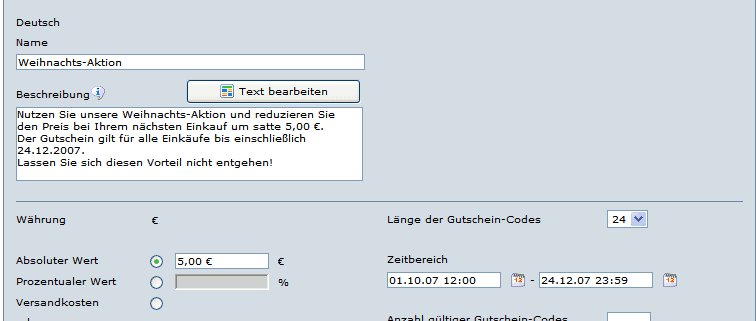 Win and Retain Your Customers – with Coupons
Visitors to your shop also work on the carrot and stick principle. If the carrot is large enough, they go into action. Of course, they are more attracted by price savings than by carrots. Cost savings increase customer interest, making them more likely to come back and look at your shop, it also increases the chances of new customers making their first purchase. Coupons help you take direct advantage of this process.
To be able to offer coupons, you first need to set up a coupon campaign in your shop administration. Under Marketing -> Coupons enter an Identifier and a Name in the description fields and then click on Save.
By clicking on Identifier you can access the area where you can define all the details of your new campaign. To start with under the General tab, you can enter a fixed, defined value for the coupon (e.g. £ 5.00 discount), a percentage value (e.g. 2.5% of the total amount) or free postage. Depending on the selected value, you should enter a meaningful description, e.g. '£ 5.00 off your next purchase' or 'Use this coupon and get free postage.' If necessary, define a minimum purchase value for using this coupon.
Further restrictions could include a time limit on the validity of the coupon or limiting the number (coupon only valid until… or only valid for the first 25 in every 100 customers). This is an incentive to customers to use the coupon quickly. Also make a note of these restrictions in the description field.
If you wish to emphasise specific products or special shipment/payment methods only, enter the relevant restrictions under the Validity register. For example, reward those customers who use advance payment, which is your guarantee of receiving payment before processing the order. Once again, inform your customers of this in the Description field.
Under the Coupons codes tab you now need to create the actual codes that will be used. The codes can be either manually entered or generated automatically, in which case you must specify the number of codes to be created (there is a limit of 50 codes which can be created each time). Remember by default any codes created will be void upon redemption, they cannot be used again and again. If you wish to create a single code that can be repeatedly used ensure the 'Redemption voids the coupon code' flag is set to 'no' (see 1st illustration above). You might want to do this if you wish to advertise a single code on flyers, print advertisements, etc.
If you would like to send vouchers in a newsletter, you do not need to create codes manually; you simply need to include the 'coupon code' placeholder within the newsletter. This can be easily achieved by linking the created coupon campaign with the newsletter. To do this navigate to the newsletter, Marketing -> Newsletter Campaign -> Newsletter, and select the coupon campaign from the drop down list (bottom right of the screen). Next either insert the coupon code directly as a placeholder or click the 'insert coupon template' button. This will insert the coupon code placeholder and a short description detailing the offer. (The description is taken directly from the name and description fields of the coupon campaign.)
We would like to wish you every success in your coupon campaigns.
Als Content Manager bei ePages ist Sarah für redaktionelle Inhalte und Videocontent zuständig. Im ePages-Blog stellt sie Onlinehändlern Marketingtipps, rechtliche Updates und Infos zur ePages-Software zur Verfügung, um ihnen den Einstieg in den E-Commerce zu erleichtern.
https://blog.epages.com/wp-content/uploads/2021/07/gutscheine.png
534
756
Sarah Böhm
https://blog.epages.com/wp-content/uploads/2021/11/logo-epages-blog.svg
Sarah Böhm
2008-05-09 12:54:14
2021-10-15 13:33:36
Win and Retain Your Customers – with Coupons