Fine-tune marketing for your shop with FAQs, design templates, tracking and other features
With the New Year have you resolved to really get started with your online business? Do you want to offer your customers an even better shopping experience? Then you can look forward to many enhancements for online shops based on ePages Now that give your shop design and marketing a boost with new functions and integrations. Find the latest features in this blog article.
FAQ element: Structure your frequently asked questions
How informed are your customers before they make a purchase? If you get the same customer queries over and over again before or during the ordering process, your customers may be unsure. If they don't find answers to their questions quickly enough, they will cancel the purchase. Especially shoppers who buy at night or on weekends and have difficulty reaching personal customer service.
A FAQ element in the shop provides general information and frequently asked questions that are unsuitable for including in product descriptions. These can be further information about products, gift vouchers, orders or complaints. Each line of the content element can be filled with content as desired. The answers can be unfolded individually, which is also called a "dropdown":

FAQ content elements are particularly user-friendly and customers find what they are looking for even faster. This way, you sustainably prevent purchase cancellations and reduce customer enquiries at the same time. FAQs also have a positive effect on your ranking, as pages with expert content are rated by Google with a high quality standard. The content is considered fundamentally valuable and helpful for shop visitors. The German online shop gartendekoparadies.de additionally sorts its detailed FAQs according to topics, such as Payment, Personal Data or Other Questions.
New designs for your shop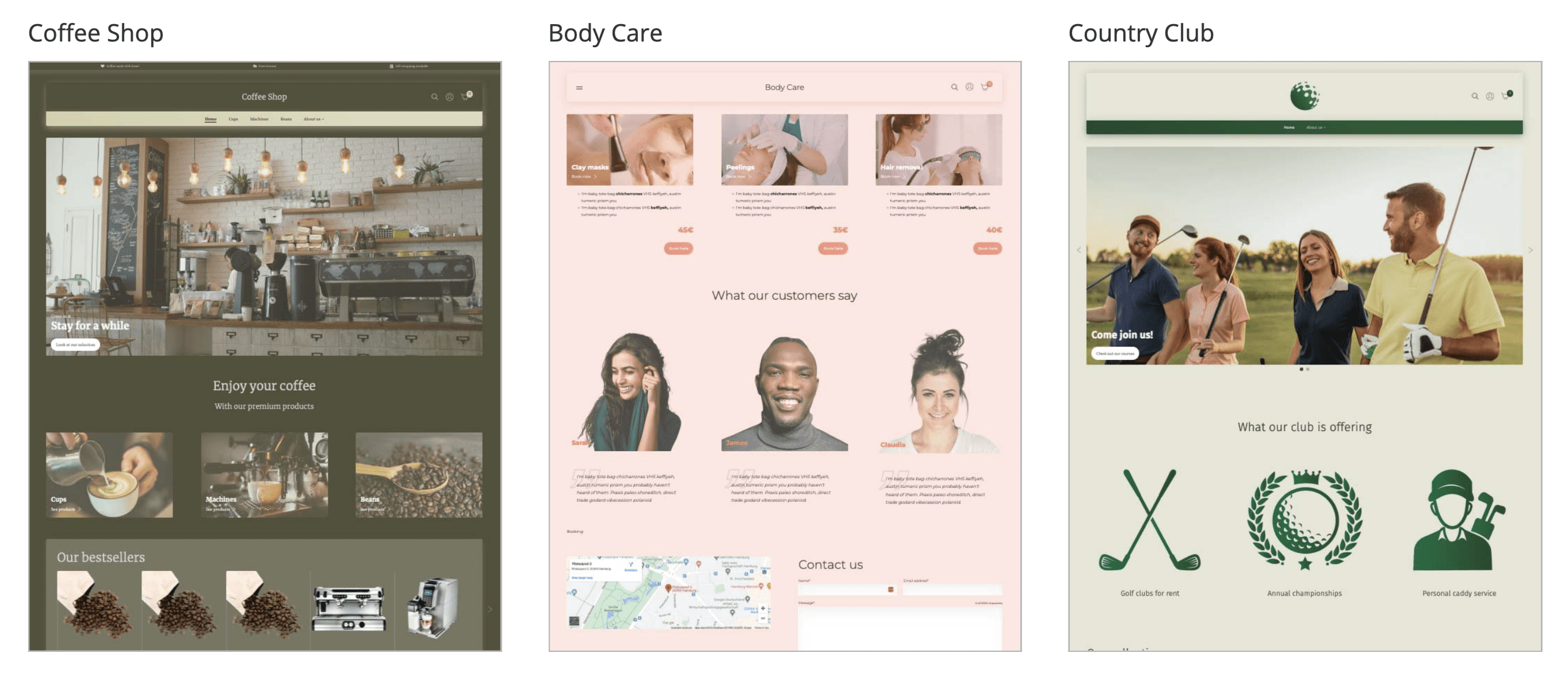 Ready-to-use design templates are integrated for your online shop and free of charge, so you can start immediately with a professional online presence without having to book additional design services from expensive agencies.
The three new design templates are particularly modern due to their three-dimensional character. Individual content elements are backed with shadows that are ideally matched to your shop colours. The templates are particularly suitable for the following sectors:
Café: Local coffee stores, roastery, …
Club: Sports club, team wear, book club, …
Body care: Treatments, spa, …
Checkout tracking for successful monitoring
A long time ago, Google announced the final change of its tracking tool from Universal Analytics to the new version Google Analytics 4. From 1 July 2023, data will no longer be processed via Universal. With the shop tracking of Google Analytics 4, you can measure individual steps in the checkout process and see exactly at which points during the checkout customers cancel the purchase, for example when it comes to choosing a payment option.
This data is particularly important for measuring the effectiveness of your campaigns. One factor is return on investment (ROI), i.e. the added value of your ad spends. Through tracking, you can see exactly which marketing channels or advertising campaigns deliver the highest ROI and are therefore most successful for you. This allows you to allocate your online marketing budget in an even more targeted way to improve the overall success of your campaigns in the long term.
Hide delivery cost indications
To provide customers with an additional incentive to buy, when possible, free shipping on products should be offered. This can reduce purchase abandonment among customers who either have not reached a certain amount by the time they receive free shipping or find the shipping costs (in relation to the basket value) disproportionate. If you have set free shipping, the note "plus shipping" (displayed by default below the price) can now be hidden.
How does it work?
To hide the text, click on any product in the administration area under Products. Under the section "More options" > "Display indication of delivery costs", select "No" to hide the note: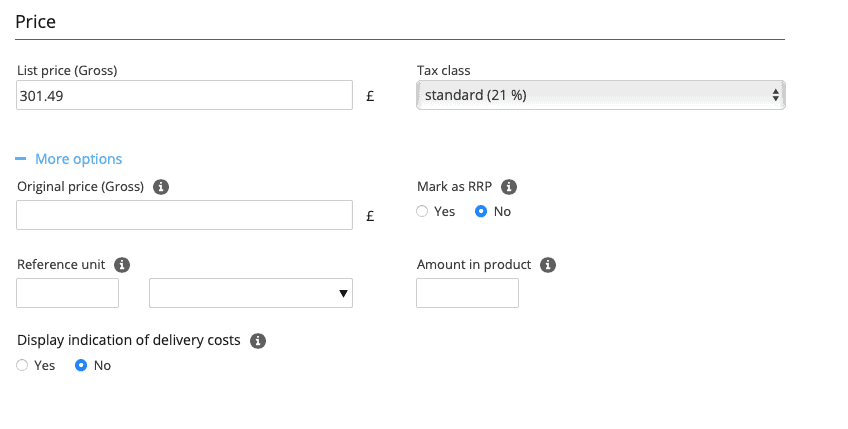 Outlook: These are the features you can look forward to
In the coming weeks you can look forward to further features for your product range as well as their presentation in the shop. We are already introducing two of them to you here.
Personalisable products
Clothes, mugs, jewellery, mobile phone covers, candles, furnishings: for many products, personalisable options are a good incentive for customers. The German online shop MeinGriff.de, for example, personalises children's clothes hangers: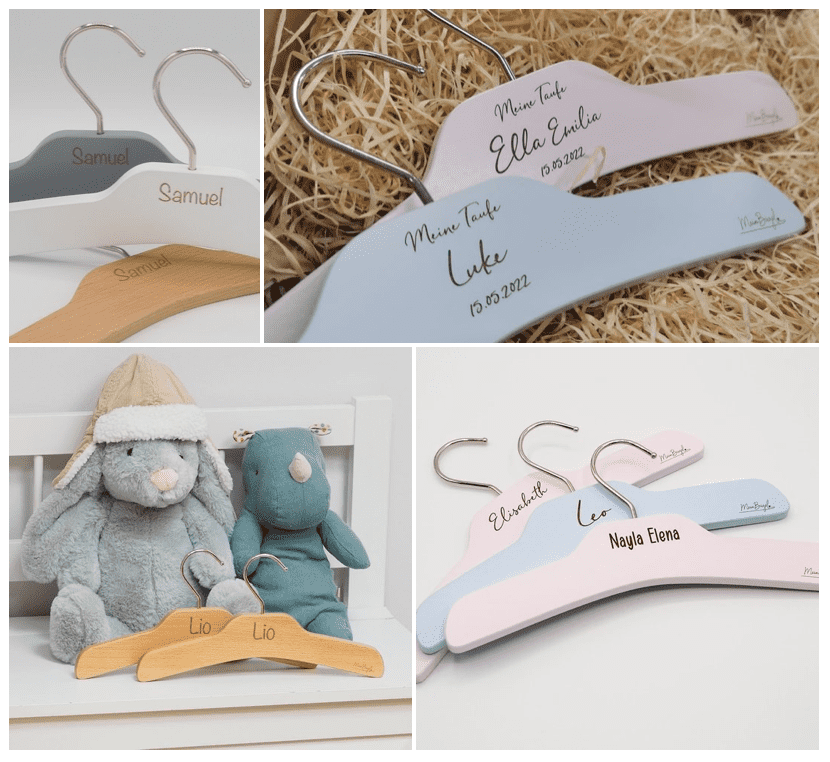 To make the shopping experience even better for customers, you can include a free text field on product detail pages. Customers can then enter free text in this field such as names. You can also determine the character length in the administration area.
Product label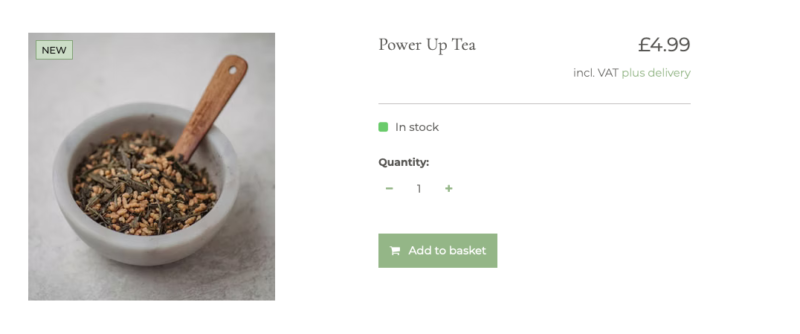 Soon, labels for new products can be activated with one click. You can activate the "New" label for certain products, which is then automatically displayed as a small text on product images.
https://blog.epages.com/wp-content/uploads/2023/02/Feature-News-0223-TB.png
314
848
Rieke Martin
https://blog.epages.com/wp-content/uploads/2021/11/logo-epages-blog.svg
Rieke Martin
2023-02-21 16:04:24
2023-02-21 16:05:07
Fine-tune marketing for your shop with FAQs, design templates, tracking and other features