Performance Max campaigns, product numbers, accounting apps and more: New features for ePages Now
At the end of the year, many online shops ramp up their marketing to maximise sales. At the end of November, Black Friday and Cyber Monday are among the most popular shopping days of the year, offering enormous potential to increase revenue. With new marketing tools for ePages Now as well as practical enhancements for even better user-friendliness and processing, you are prepared for the year-end business. In this article, we report on all new features and give an outlook for the beginning of the year. Please note that the availability of features and apps may vary depending on your reseller and shop package.
Shopping ads on Google
Whether you're a newcomer to online marketing or a long-time Google Ads user, the new campaign type based on Performance Max allows merchants to access all of Google's channels with just one campaign. This makes advertising easier and more efficient than ever. With the integration of product feed & Shopping ads on Google, campaigns can be set up even faster: you upload your products directly from the shop. Once you have defined the campaigns' goals, Google's algorithm ensures that the ads are displayed to potential customers across all relevant channels (including Google Search, YouTube, Gmail or Maps).
To help  ramp up your year-end sales with the latest Shopping Ads technology, Google is proposing to top-up your advertising budget: if you place ads on Google Ads for at least  €400 within 60 days as a new customer, Google will automatically credit an additional €400 into your ads account.
For more information on the year-end campaign and how to set up your product feed & shopping ads on Google, visit our blog article.
Filter for themes
The selection of templates for your shop design has already been extended by several options. To help you find the ideal design for your shop even faster, themes can now be filtered according to certain criteria: Industry, product range (small/large), design (classic/elegant/modern) or layout (minimalist/rich in content):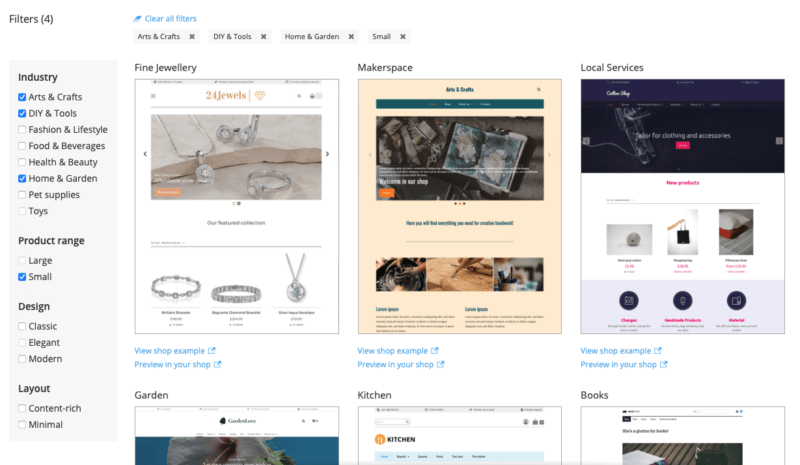 Product numbers on category pages
For some customers, it can be helpful to see the product numbers in the online shop. If your existing customers for instance want to buy certain products again, a quick check of the item number will give them immediate assurance. Especially when there are many variations or similar-looking products, differentiation via the item number is the most reliable method.
Activating product numbers in the shop can be done with one click: In the main menu of your shop , go to Settings > Product display. Select with one click that you want to display the product numbers and save. This will automatically display all product numbers on the product detail pages: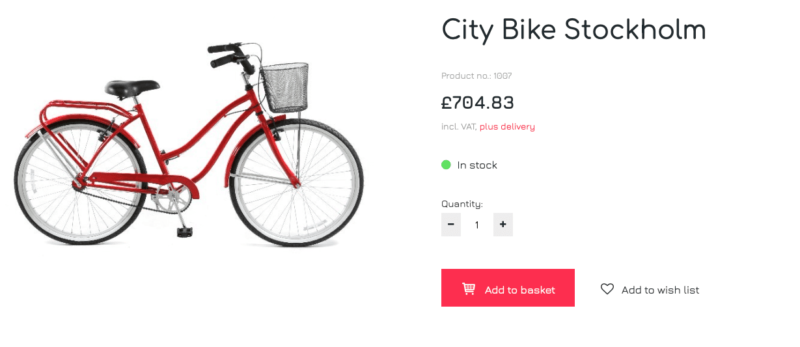 Outlook: These features await you from January
At the beginning of the year, you can look forward to more new features for your Now shop. Here is a snapshot of two of them:
New content element: FAQ
Frequently asked questions or FAQs are particularly suitable for content pages where you want to provide customers with a range of helpful information.
The practical layout allows you to present a range of content in an overview. Especially for FAQs it is particularly advantageous that individual sections open with a click. This way, your customers will have a much better overview of the content and can find answers to their questions even faster.
New theme: Coffee Shop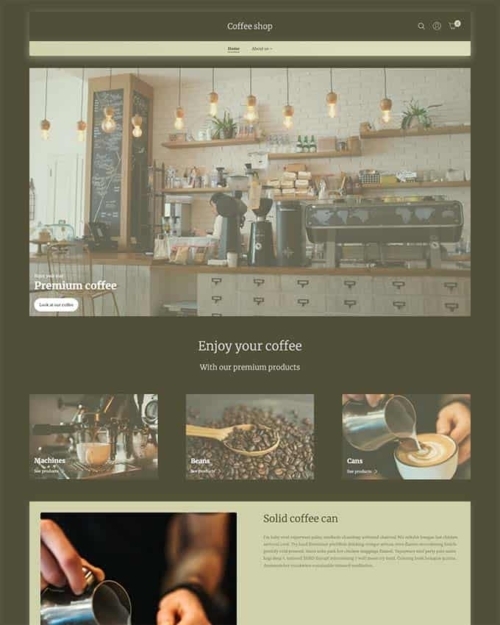 In January, a new theme will be activated that stands out by its minimalist layout. The rounded elements are emphasised by the shading, so that the template looks modern and young. Due to its simplicity, the design is suitable for many industries and brands with a small product range.
This post is also available in: German
https://blog.epages.com/wp-content/uploads/2022/11/Neu-Featureartikel-1122-TB.png
314
848
Rieke Martin
https://blog.epages.com/wp-content/uploads/2021/11/logo-epages-blog.svg
Rieke Martin
2022-11-17 14:01:56
2023-06-29 12:39:06
Performance Max campaigns, product numbers, accounting apps and more: New features for ePages Now