Feature News June 2023: Product image enhancements, menu tweaks and more
During the slower summer months, you as an online retailer have the opportunity to fine-tune the shopping experience and usability of your store. As part of our ongoing improvements, we are proud to introduce a number of new features that will make running your online store even easier and more effective.

NEW product image labelling
As an online retailer with many products, you are constantly adding new products to your shop and want to present them to your customers in the best possible way. The "NEW" label for product images is the right feature to showcase new products by highlighting them with one click.
The "NEW" label appears prominently on the product image and helps draw your customers' attention to new items. You can manually set the label on a per product basis, giving you the flexibility to choose which products to mark as "new". An effective tool to increase visibility of new products and drive sales. The label can be enabled individually in the product settings.
Fixed product images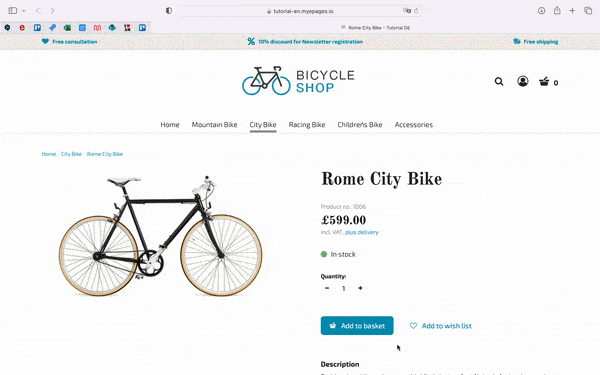 A detailed product description is important to convince your customers of your products. But it can be annoying for customers to lose sight of product images while scrolling. With our new feature, product images remain fixed next to the product description. This way, customers can always see the product and its details while reading the description. This improves the customer experience as they can see details and descriptions at the same time without having to scroll up and down.
Visibility of categories in the menu
A clear menu is essential for a good customer experience. It helps customers navigate and find what they are looking for more quickly. With the menu visibility option, you can now better control which categories your customers see first.
You can choose to show or hide individual categories in the main menu. To do this, go to Products > Manage Categories. This gives you control over how your products are displayed and allows you to direct your customers to specific product categories. This makes your shop not only more personalised, but also easier to navigate.
ℹ️ Hidden categories can still be found by search engines and linked to in your content pages.
Subscribe to new features
We are constantly working to provide you with the best tools for your success. To make it easier for you to keep up with the enhancements and adjustments, you can find all new features on our website https://features.epages.com/.
On this platform we summarise all the features and make sure that you never miss a new feature. As soon as we add a new feature to ePages Now, it is presented on the website so that you are always up to date. This way, you can be sure to take advantage of each new feature as soon as it becomes available. Features can also be filtered by different categories and packages. Subscribe to new features and stay ahead of the game.
The combination of all these new features gives you even more tools to optimise your online store and give your customers an even better shopping experience. Stay tuned for more updates and expand your e-commerce success with ePages!
https://blog.epages.com/wp-content/uploads/2023/06/Feature-News-0623-TB.png
314
848
Rieke Martin
https://blog.epages.com/wp-content/uploads/2021/11/logo-epages-blog.svg
Rieke Martin
2023-06-26 09:51:05
2023-06-26 13:41:38
Feature News June 2023: Product image enhancements, menu tweaks and more