6 effective cross-selling strategies
If you want to increase the basket value of your customers, cross-selling is the most effective way to achieve that. Many successful online – and offline – players have been using cross-selling for many years and know how to get the most out of it.
By doing so, they are able to increase their average basket, provide a better service and even achieve a higher conversion rate. In this article, we will show you best practice examples you can implement in your shop.
If you are selling more than one product, you should use cross-selling. It enables you to set up a very efficient transformation lever. If it is included in your shop package and you do not use it yet, you can get some inspiration with the following strategies and find the best way to use it for your business (If it is not included, we recommend you to contact your provider as you will probably need to upgrade your package).
Best practices
Take a look at how different online shops are using cross-selling strategies to boost their sales:
1. The "complementary or similar product" strategy:
This one is easy: propose complementary or similar products to the one the customer has chosen.
2. The "sold separately" Strategy:
This simple and efficient method, largely used by Ikea, is based on the fact that to get a complete product A, you also need product B and product C. In this example, to use this lamp, you will also need a bulb, which is sold separately.
This approach can mislead the customer by giving him the impression of being "trapped" with additional costs, so make sure that your product description makes that clear, as Ikea does in this example.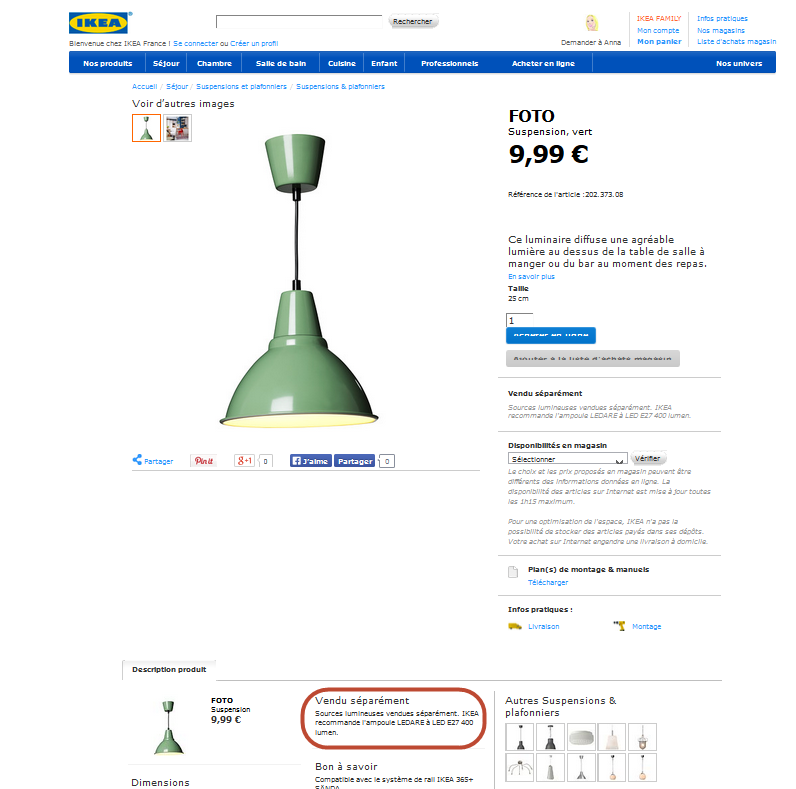 3. The "complementary service" strategy:
This strategy is implemented by several shops and is a good way to alleviate the client's objections against a product which requires an installation he may not be able to manage alone.
4. The "bet on your taste" strategy:
Your customer is looking at a pair of brown ballerinas? Maybe he would also love these other ballerinas, or some brown accessories. Once the customer has found what he was looking for, you can drive his taste by suggesting products of the same style, colour or material. Most likely, you'll be showing him products he has not seen yet but might like.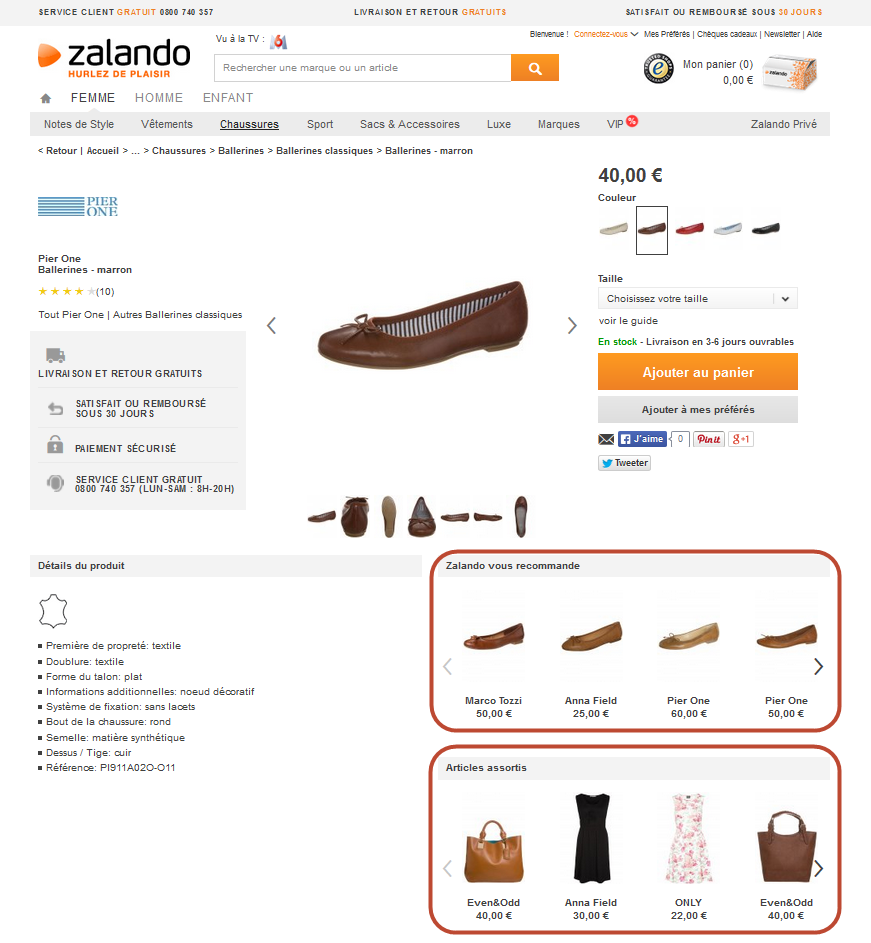 5. The "shop the look" Strategy:
Your client is looking at pants but maybe also likes the jacket the model is wearing, or the entire outfit. This strategy, mainly used in the clothing and decoration sectors, allows you to offer your customer an idea of how his product will look in combination with others. If he likes the look, there is a possibility that he'll buy all the products at once and he won't lose any time searching for different products, which in complete will lead to a higher satisfaction.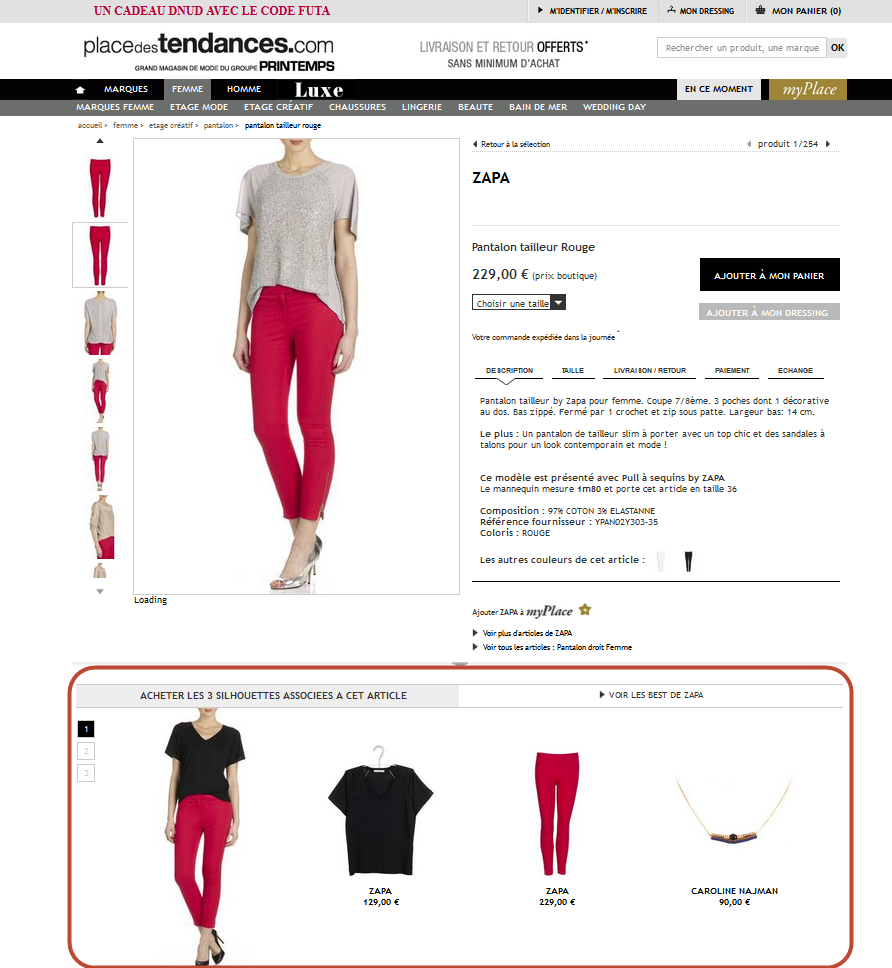 6. The "automatic cross-selling" strategy: Customers who bought this product also bought…
This feature is only available for shops of the version ePages Base. It automatically selects matching products based on the order history and therefore on the buying habits of your customers.
To add this feature to your online shop, go to Settings >> Product settings >> Auto cross-selling and define your standards.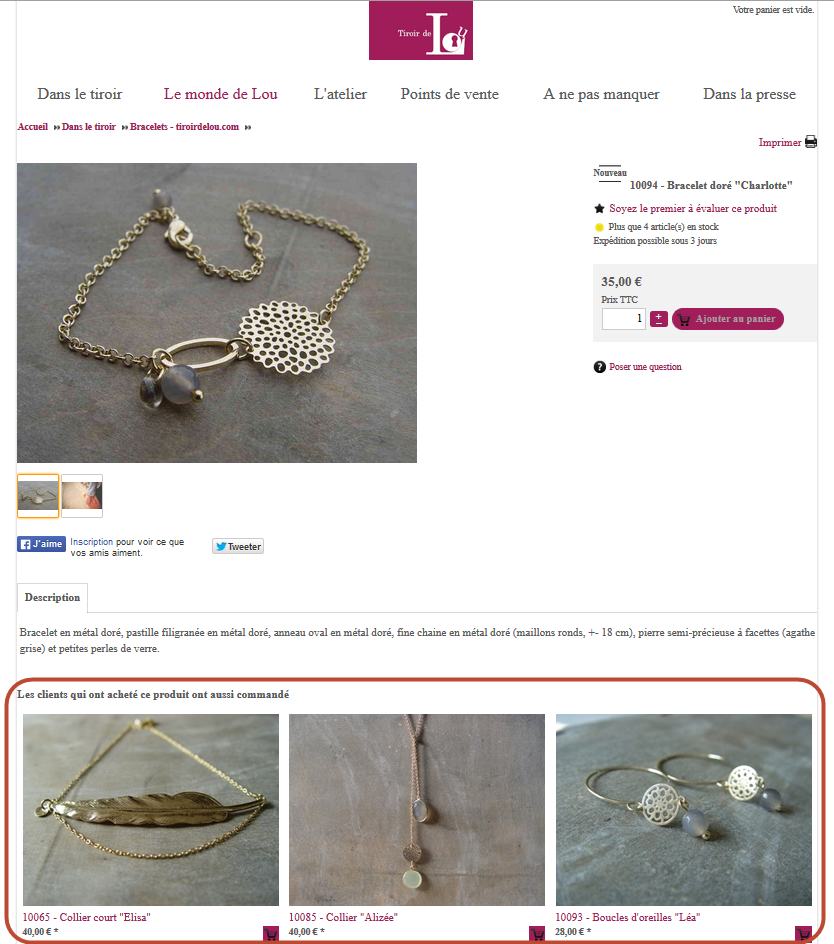 Essential rules for successful cross-selling
Now, before you start cross-selling your products, make sure you follow these basic rules:
Don't start cross-selling before you are ready. Make sure you have a wide range of products that can complement each other. For example, if you sell shoes, you will also need a stock of shoe care products or accessories. Well-functioning logistics are the key to your success.
Be ingenious: Do you propose free delivery if the basket is exceeding XX euros? When you propose cross-selling, remind your customer of this offer as this will be a good sales accelerator and increase your average basket.
The 25% rule: It is proven that a product you recommend will sell better if it does not exceed the total basket by more than 25 percent. For example, if the original order is €100, your cross-selling shouldn't exceed that by more than €25.
Test on the best, roll out on the rest: Start by testing your cross-selling strategy on your best products. Once the results of your tests are satisfactory, expand them to the rest of your products.
Dario Wilding was PR & Content Manager at ePages from 2014 to 2016.
https://blog.epages.com/wp-content/uploads/2021/07/laptop.jpg
314
848
Dario Wilding
https://blog.epages.com/wp-content/uploads/2021/11/logo-epages-blog.svg
Dario Wilding
2014-07-11 11:43:02
2022-01-10 22:05:32
6 effective cross-selling strategies