PayPal Checkout: The new payment solution from PayPal
PayPal Checkout is now available for ePages Now as an online payment solution. In this article, you will learn more about the new features, payment methods and how to activate PayPal Checkout in your shop.
What is PayPal Checkout?
The PayPal Checkout integration is an all-in-one payment solution for your online shop:
With the integration, you can meet your customers' needs by accepting a wide variety of payment methods instantaneously. After simply adding PayPal Checkout in your ePages Now shop, you can offer local payment methods in different currencies from more than 200 countries around the world in addition to the four most popular payment methods: PayPal, direct debit, credit card and debit card. For example, your customers in the United Kingdom can pay with PayPal Express and your customers from the Netherlands pay as accustomed with iDEAL. The large selection of local payment methods makes your online shop more attractive to customers from all over the world.
With PayPal Checkout, you benefit from a wider range of payment methods, an easy-to-use checkout for your customers, a better overview for you and other extra benefits. There are no monthly fees for using PayPal Checkout, you only pay a fee per each transaction.
Integrate attractive "Buy Now, Pay Later" options
In addition, PayPal Checkout makes financing even more convenient for your customers, as they are given the option to pay for their purchases in multiple instalments, subject to a credit check. For many customers, these options are essential when it comes to high-priced purchases. For more information about the split purchases option "Pay in 3", visit PayPal for UK markets.
How to add new payment methods to your shop
To add new payment methods to your ePages shop, click on Settings > Payment in the main menu. Here, you will see an overview of all payment methods offered. Click on "PayPal" to go to PayPal Checkout.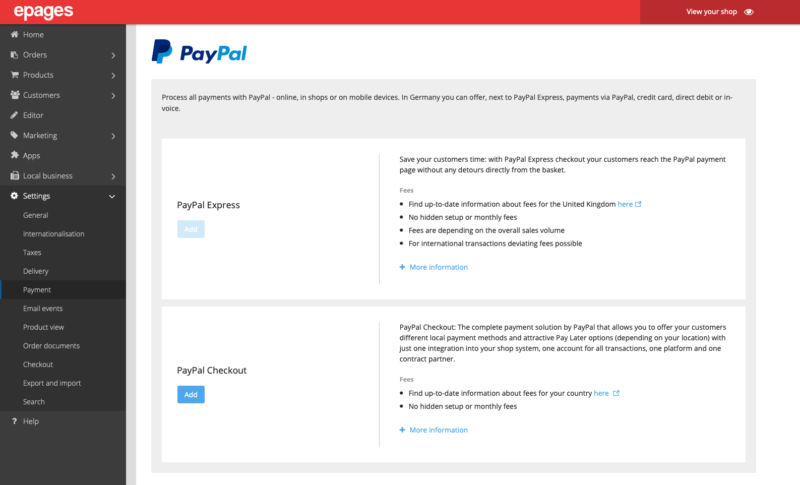 Click on "Add" and connect your PayPal account.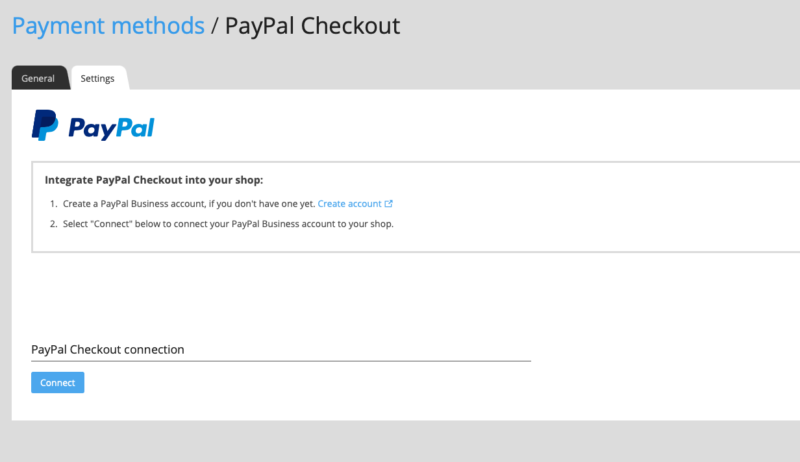 You will then be redirected to PayPal to link your PayPal account for PayPal Checkout. Choose all desired payment methods and you are ready to sell! Find out more about PayPal Checkout or sign up directly at PayPal.
https://blog.epages.com/wp-content/uploads/2022/06/PayPal-Checkout-TB-1.png
314
848
PayPal
https://blog.epages.com/wp-content/uploads/2021/11/logo-epages-blog.svg
PayPal
2022-06-15 10:18:24
2022-06-16 09:34:05
PayPal Checkout: The new payment solution from PayPal