October Feature News: Social media integrations, editor enhancements and more
October marks the beginning of the most important sales period for retailers, with highlights such as Black Friday and Cyber Monday generating huge demand from shoppers. To help you perform at your best during this time, this article highlights new features in ePages Now, including enhanced social media functionality, improved content management and new design options.
Automatic product loading on category pages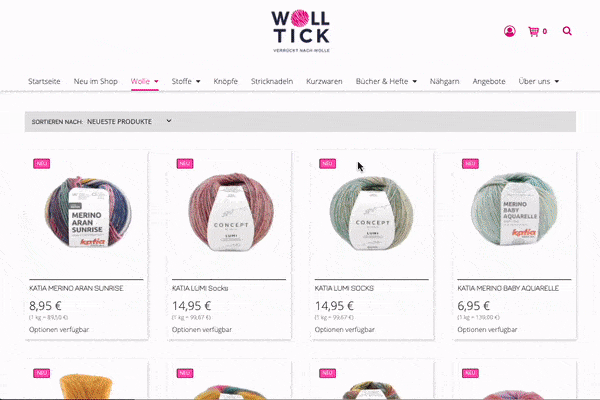 Optimising the ordering process for as many purchases as possible often starts with the smallest details. To make it as easy as possible for your customers to view your products, they now only have to press the "Show more" button once. With the optimisation, customers can now see all the products in a category with just one click. Additional products will then load automatically. This is particularly useful for retailers with a wide range of products, as more products are automatically presented to customers at once. The user experience, and potentially conversion rates, can be significantly improved for retailers with a wide and varied product range.
Scrolling animations for content elements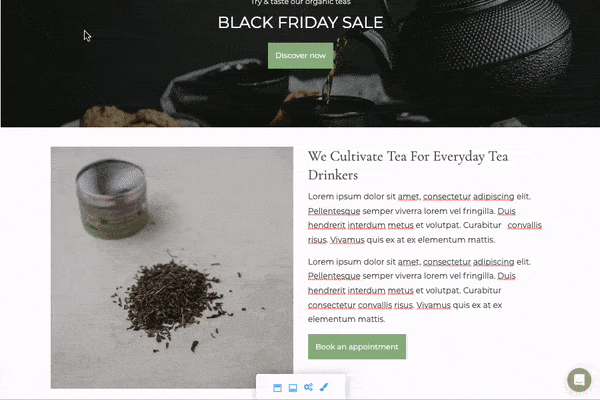 With new scrolling animations, you can create dynamic and engaging content without any development effort. Make individual elements stand out visually with a single click. You can also use animation to make the user experience more interactive, modern and attention-grabbing.
How does it work?
You can add animations directly in the live preview of your store. To do this, click on Editor in the main menu and select the page and content element you want to animate. By hovering the mouse over the desired content element, you can select the animation on the right-hand side of the action banner – you can choose from different animation types (e.g. a fade in from the left or from below).
New header menu types
Independent of the design template, you can decide how your header menu should behave. The new cascading menu and mega menu offer a variety of options for presenting subcategories and pages. This can be particularly useful for merchants with many sub-pages and a wide range of products to ensure clear and user-friendly navigation.
You can select the new menu types in the editor at the bottom of the live preview. Click on the header icon to see the menu type choices.
Gradient background for content elements
Thanks to the new colour feature, merchants can now make their web presence even more individual and appealing. With variable colour gradients, you can use two or three colours of your choice to highlight each area of your store.
You can set colour gradients for all content elements in the editor. Click on a content element in the live preview and select the colour bucket icon. This will give you a range of options to create the right gradient.
Sync products with Facebook Store and Instagram
Maximise your presence on social media! This feature makes it easy to synchronise products with your Meta Business account. This is particularly useful for promoting products on Instagram and increasing the likelihood of sales through tagging: Your products can be displayed as product tags and lead directly to your online shop. This allows you to provide your customers with a smoother and more efficient customer journey.
How does it work?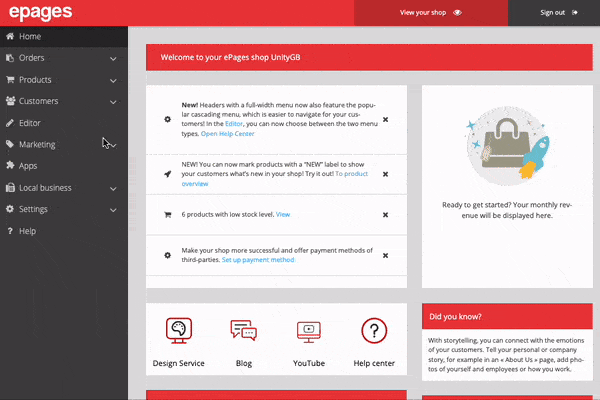 To create product tags, you first need to export your products to Instagram and Facebook. In the main menu, under the Marketing tab, you will find the "Instagram & Facebook" menu item. Here you can export your product catalogue to your social media profile with one click, either via the meta pixel or a simple data feed. Detailed instructions can be found in the administration area. Once successfully exported, you can easily select the product tags for your next posts from your account.
These new features not only increase the visibility of your products and improve the usability of your website, but also strengthen your online and social media presence. We at ePages are excited to introduce these innovative features and look forward to seeing how they will help you revolutionise your online business. As always, we welcome your feedback and look forward to helping you on your e-commerce journey. Stay tuned for more exciting updates and subscribe to our feature updates on our website!
This post is also available in: German
https://blog.epages.com/wp-content/uploads/2023/10/Featureartikel2.png
314
848
Sonja Schall
https://blog.epages.com/wp-content/uploads/2021/11/logo-epages-blog.svg
Sonja Schall
2023-10-02 13:19:35
2023-10-16 13:51:25
October Feature News: Social media integrations, editor enhancements and more