Ensure that your customers receive your e-mails
The organisation, DMARC, is an initiative established by several big companies pursuing the goal of protecting users from spam. Avoid using free e-mail services for your online shop communication. Rather, only use an e-mail address involving your own domain to ensure that your shop communication works smoothly.
There are many services such as Google Mail and Hotmail, which offer free sending of e-mail messages. Especially for private use that is quite popular. Unfortunately, senders of so-called spam-mails often use the name of established services to obtain the trust of the user. Today, online users are more aware of spam which makes them more sceptical, when they receive messages via free e-mail services.
Companies such as AOL, Google, Hotmail, Facebook, LinkedIn or PayPal – just to mention a few– have joined and founded the so-called DMARC which stands for "Domain-based Message Authentication, Reporting & Conformance". All members work together with the aim of developing a solution that protects their customers from spam in a better way.
How DMARC works
When an e-mail is sent from a free mail service, DMARC will be checking if this e-mail was actually sent via the server of that provider. If you use a free mail address in your shop, it would mean that different servers are part of the process. In this case the DMARC check could result in the assumption that it might be a case of fraud. Therefore, this could cause problems in the message delivery when automated e-mails are sent out via free mail services.
Steps to take for your online shop
To guarantee that the message delivery works smoothly it is best that you don't use any free mail service for your shop communication. You should rather use an e-mail address including your domain which makes it easier for your customer to identify your shop being the sender, which also builds trust in your business. For example, use an e-mail address with the domain of your shop as info@yourwebsite.com or an e-mail address with the domain of your provider.
In case you haven't used an e-mail address with your domain so far, just contact your online shop provider directly.
How to change your e-mail address in the administration area
If you want to change your e-mail address, take the following steps:
Changing the standard e-mail address
1. In the administration area click on your name in the upper right corner.
2. In the field e-mail address change your e-mail address.
3. Click on save.
Changing e-mail events
1. In the main menu of your administration area choose settings and afterwards e-mail-events.
2. Choose any e-mail-event (e.g. new registration).
3. In the field "From" click on the link edit.


4. Type in your new e-mail address in the field e-mail adress.
5. Check the option "Use this address for all e-mail events as a predetermined sender".
6. Apply all changes.
7. Click on save.
Change the sender's address in your newsletter
You only have to make the following adaptions in case you have one or more active newsletter campaigns.
1. In the main menu of your administration area choose marketing and afterwards newsletter.
2. Choose the campaign which you would like to edit.
3. Choose General.
4. Type your new address in the field the sender's e-mail address.
5. Click on save.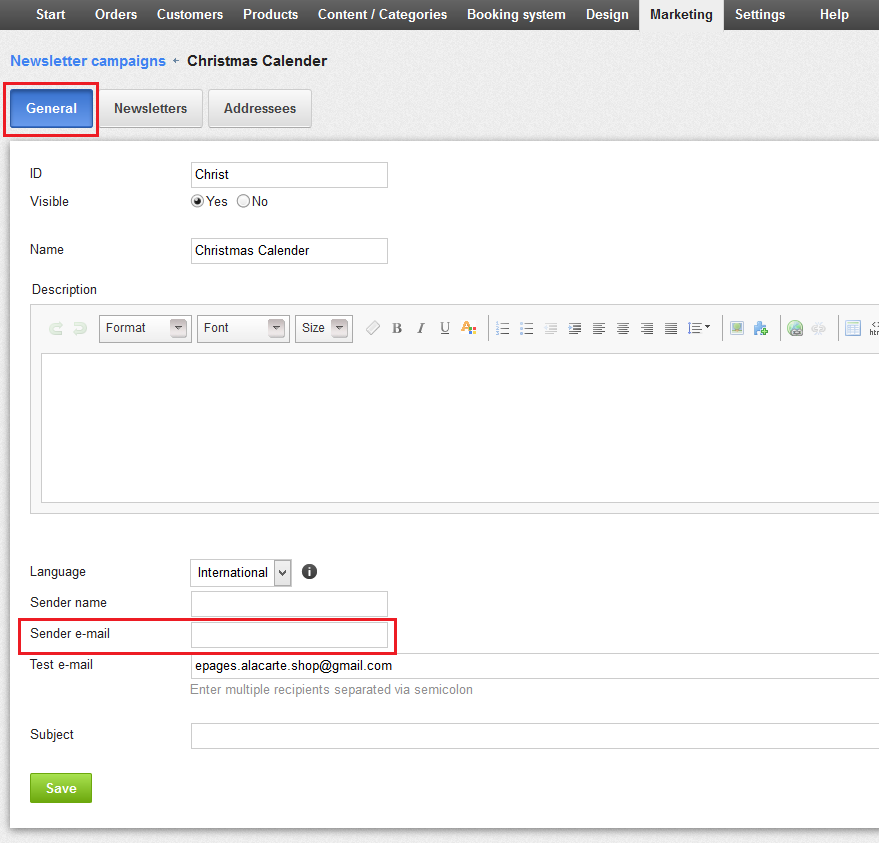 Friederike Beins ist Mitarbeiterin bei Newsletter2Go.
https://blog.epages.com/wp-content/uploads/2021/07/smb.jpg
314
848
Friederike Beins
https://blog.epages.com/wp-content/uploads/2021/11/logo-epages-blog.svg
Friederike Beins
2014-07-08 15:52:53
2022-02-28 12:42:25
Ensure that your customers receive your e-mails